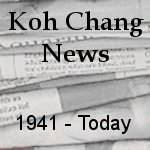 4 August 2007
It is appropriate that the Tourism Authority of Thailand chose Koh Chang as the venue from which to launch its new "Keep Thailand Beautiful" campaign.
Appropriate because the choice demonstrates an awareness of the need to take much better care of our natural heritage in general, and our most beautiful islands in particular, if we hope to preserve our country's pristine natural charm. Domestic tourism operators have thrown their support behind the project's aim of stimulating the country's tourism industry by using the resources of government agencies to conserve scenic areas and encourage local villagers to act as proud hosts to arriving tourists. The venture is a noble one but needs great care in implementation, to ensure that past mistakes are not repeated. All too often these took the form of glossing over the more sinister side of tourism development or condoning it as the end justifying the means.
This darker side is the ecological impact of mass tourism, which has been well-documented. So have the horrors perpetrated in its name by greedy land speculators and rapacious resort developers. The allegations are hardly a secret and neither are the deep pockets possessed by some of the developers, which could have a bearing on why so many probes and fact-finding inquiries at national and local government level get nowhere.
If this attitude persists, then there is little hope for the Tourism Authority's new campaign because few villagers, no matter how proud they are of their surroundings, are going to draw attention to their little bit of paradise if it means that developers will move in, take their land and then pour mountains of concrete over it.
Koh Chang is not alone in being bruised and battered by the effects of mass tourism. Alarm bells began to ring across the Gulf of Thailand last year when a property boom in Koh Samui and Koh Phangan got so heated that 292 foreign and 33 Thai property firms registered with the Surat Thani provincial commerce office in the short space of four months. International celebrities such as Manchester City football club coach Sven-Goran Eriksson purchased a luxury home on Koh Samui, spurring tourism and sparking a fever which drove land prices up to as high as a reputed eight million baht a rai for prime beachfront plots on Koh Phangan.
All the familiar signs of unplanned and unregulated development are present and they prompted one regular visitor and saddened eye-witness to appeal in Tuesday's Postbag for the restoration of sanity and the launch of a top-level environmental rescue mission. His letter condemned the wanton destruction of some of Koh Phangan's finest features in the name of development. It detailed the alarming extent of this vandalism which even involved the bulldozing of an entire hillside overlooking scenic Mae Had Bay, causing landslides into the sea. Predictably, the ensuing mud in the water is suffocating and killing the magnificent coral reef.
Tragically, this type of abuse and destruction is an all too common occurrence along our coastline. It is a disgrace, but then so is the home-grown pollution fouling our parks, waterfalls and other areas of great natural beauty. It is on a par with the criminal neglect which has led to the disappearance of so much of our rainforest coverage over the past four decades. Clearly, the ramifications of environmental awareness and conservation have yet to permeate all levels of the government, business and society.
There are laws to stop the richness of our country being squandered but the increasing levels of environmental degradation reflect their lack of enforcement. The abysmal record of government agencies in this regard has left a vacuum into which the Tourism Authority and its allies have now stepped with their "Keep Thailand Beautiful" project. Let us hope they have the willpower to take on wealthy and influential vested interest groups, and rise above the evil culture of institutional bribery, apathy and corruption which is responsible for so many of the problems plaguing our country today.
So have the authorities on Koh Chang learned from the mistakes made on other islands.   Probably not, but having a National Park covering 75% of the island limits the amount pf development that can take place.