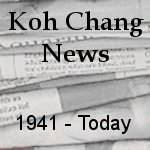 17 November 2007

The state-run Designated Area for Sustainable Tourism Administration (Dasta) plans to relinquish its authority over developments on the popular resort islands of Koh Samet and Koh Chang after being ordered to hand over the management of Chiang Mai Night Safari to a new firm.
Acting Dasta director Tunya Harnpol said yesterday that the change would follow the same pattern of the night safari.
The cabinet decided on Tuesday to remove the night safari from under the jurisdiction of Dasta, a public organisation set up in 2003 under then prime minister Thaksin Shinawatra to manage the safari park and other tourism areas.
Under the change, which will be completed in a year, a new company owned by the state will be formed to run the night safari for better flexibility and effectiveness, Mr Tunya said.
The change should cut the park's expenses and the savings would eventually help the park reduce its entrance fees, benefiting the public, he said. The park generates a monthly income of some 67 million baht but still posts huge expenses.
Dasta's relinquishing of control over tourism developments will expand to Koh Samet in Rayong and Koh Chang in Trat, he added.
18 months later and DASTA is still in contriol of the development of Koh Chang.