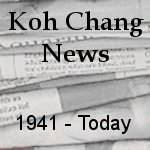 Oct 10, 2007
A Briton and his Thai wife have asked the Crime Suppression Division to take action against the operator of a passenger van queue in Bangkok and his aides who allegedly assaulted them over a land deal on a resort island in Trat.
Rattana Niamsoongnern, 32, and her husband Dawell Waito, 45, yesterday lodged a complaint with CSD chief Pol Maj-Gen Pongpat Chayaphan against Pornnathee Trakulsrisook, 40, a Bangkok resident and operator of a passenger van queue at the southern bus terminal.
Mrs Rattana said she and her husband had used money from the sale of their assets in England in developing a 500 square wah block of land on Koh Chang into a resort hotel named Backpacker, under a 30 year lease.
In May, Mr Pornnathee contacted her and expressed an interest in buying the resort, for which she set the price at 10 million baht.
The price was later brought down to 5.5 million baht when Mr Pornnathee said he could only afford to pay that much.
A few days later, Mr Pornnathee paid her 100,000 baht as a down payment. Under the deal, the couple would have to transfer the business operating rights only after the buyer had made the full payment.
But in August, Mr Pornnathee took 10 of his aides with him to stay at the resort, even though he had yet to make the full payment.
During his stay he tried repeatedly to pressure the couple to lower the price to just four million baht.
Mrs Rattana said her family felt intimidated by Mr Pornnathee and his men.
Last Saturday , Mr Pornnathee and three of his aides, armed with wooden batons and bottles, assaulted Mrs Rattana, her husband and his younger brother, according to the complaint.
Mrs Rattana also accused Mr Pornnathee of saying that the attack was just a warning for their refusal to transfer the resort business to him.
The couple then turned to the local tourism police for help, who took them to file a complaint at the Koh Chang police station. But instead of helping them, police just suggested they negotiate with Mr Pornnathee, she said.
Pol Maj-Gen Pongpat said a team of investigators from Bangkok would be sent to Koh Chang to look into the complaint.
The English guy didn't have a good reputation here and many believe got was what coming to him. (The local police version of events and also witnesses were very different to the account above.) He left the island shortly after.