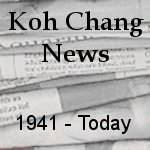 Sept 12 2007
The Energy Ministry will set aside one billion baht to finance construction of biogas-fuelled electricity plants in local communities. By 2011, a total of 1,540 plants, fuelled by solid waste and waste water, are expected to be in operation, according to Panich Pongpirodom, director-general of the Department of Alternative Energy Development and Efficiency.
Funding will come from the Energy Conservation Fund under a five-year plan from 2008-12. The goal is to expand the capacity and income-earning potential of communities from sales of power and other byproducts.
Mr Panich said the plants were expected to generate a total of 100 megawatts of electricity.
Candidates for funding would be communities that produce enough solid waste and waste water to fuel a plant. "We expect household waste of around 100 tonnes daily [would be needed in] each municipality," he said.
Mr Panich said communities would benefit in terms of waste management, adding that electricity production would produce methane as a byproduct, which could substitute for cooking gas. In addition, waste from the power plants can be recycled for use as organic fertiliser.
Currently, there are three solid-fuel biogas power plants in Phuket, Rayong and Bangkok with a total capacity of 4.13 MW. The ministry expects to see five more plants operating by year-end in Kamphaeng Phet, Chiang Mai, Hua Hin, Chon Buri and Koh Chang.
The ministry supports community biogas projects by buying electricity under the state-sponsored Very Small Power Producers (VSPP) programme.
Prices paid to VSPPs are five baht per unit (kilowatt/hour), double what the Electricity Generating Authority of Thailand pays to conventional plants.
Municipalities that build the biogas plants will also be eligible for loans at 4% annual interest fixed for seven years from participating commercial banks.
Another good idea on paper. And that's how it has stayed. Just another unrealised dream.