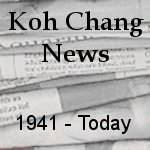 April 23, 2006
The Koh Chang International Triathlon Championships, which is open to both local and international competitors, will start on the resort island on May 21 with big prize money and prestigious trophies for the winners.
The international event will be held to commemorate the 60th anniversary of His Majesty the King's accession to the throne and also to promote tourism in Trat province.
Competitors will start at White Sand Beach with a 1.5-kilometre swim, then cycle 40km before a 10km run to the finish line at the Koh Chang Lagoon Hotel.
Trat Deputy Governor Chonchuen Bunyanusas said about 60,000 people visited Trat province last year and 20 per cent were foreigners.
The event, which will be held under international rules, will be divided into three categories – individual international open, Thai individual open and team relay.
The triathlon will kick off on May 21 at White Sand Beach on Koh Chang. The winner and the two runners-up in each category will earn prize money and trophies, while all those who finish the punishing course will receive medals.
The first, and to date – mid-2009 –   only Triathlon run on the island. Apparently the steep hills and lack of circular route made it a bit too difficult and not much fun for competitors.   However, a subsequent triathlon had competitors jump of a ferry as the   starting point for a race to Chantaburi.