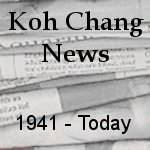 Jan 29, 2006
(From The Observer, UK)

Koh Chang is a backpackers' paradise of bargain beach huts, massage on the beach and nights listening to Bob Marley. But things are changing as the mainstream tour operators discover its charms. Jill Hartley reports
We travel for new experiences, and this was a definite first. I was flat out on a sun-bed on the beach, in the shade of a frangipani tree, being expertly massaged – with a bulldozer a metre from my head. Instead of the gentle slap of the waves, I had the loud drone of an earth-mover numbing my brain and half a dozen Thai massage ladies squawking like crows around me. They flapped at the driver with sarongs and towels. 'Stop, stop, please. Very noisy. Madam doesn't like the big machine!' To be fair, Madam did see the funny side, but he didn't stop and was still at it four hours later.
I was on the Thai island of Koh Chang, the second largest in the country after Phuket, off the north-east coast, not far from the Cambodian border. If you haven't heard of it, you soon will, as it's what the mainstream tour operators call an 'emerging destination'. If you are a cynic, like me, that means a former sleepy backpackers' retreat of simple beach huts is about to be swamped with concrete. But if you like new places that are relaxed and relatively easy to get to, book now before the hordes arrive.
Flights from Bangkok to neighbouring Trat City on the mainland, where you catch a charming rust-bucket ferry to the island, started just over a year ago and run two or three times a day, as opposed to more than 30 daily flights from the capital to the better-known Koh Samui.
There is little resort-style development on Koh Chang because it is dizzyingly mountainous, making it pretty in a Gauguinesque South Seas way, and because it is a protected marine national park – although not protected from earth movers on every corner helping to throw up new hotels.
I was right about those backpackers' huts. There are scores of cheap places, costing from as little as a couple of pounds a night for what amounts to no more than a garden shed with a bed. Most are on the west side as there are few beaches on the east, and the highest concentration is at White Sands.
Here the beach is clean, the roaming dogs are well fed and not after your leg, there's little evidence of dubious girlie bars and everyone is friendly. The shopping is the usual tat with travellers' clothes that fall apart after two rinse cycles but it's all so cheap and easy that no one cares. If you want to go upmarket there are a couple of smart Italian restaurants. In short, it is perfect for a winter stop and flop.
That said, what the brochures don't tell you is that the beach suffers from a strong tide and almost disappears on certain days in the lunar calendar. Also, those mountains mean lots of cloud and more rain than on lower-lying islands. White Sands reminded me of the Thailand of my youth but we were staying a few bays further down at the Amari Emerald Cove hotel.
Completed just over a year ago, the 150-room Amari was the first international five-star hotel to open on the island and the first to be featured by Kuoni, Britain's biggest long-haul operator to the Far East.
Rooms offer simple luxury with teak floors, large beds, generous bathrooms and balconies overlooking lily ponds. The pool is a 50-metre stunner, five times longer than the one at my local gym, and makes up for the smallish beach. The cocktails and the food are excellent, but the architect made a serious error of judgment when he put the main bar and the Thai and Italian restaurants at the back of the hotel, overlooking the car park and the inevitable construction site.
On our first morning, slipping into that pool for a pre-breakfast swim was bliss but I soon noticed that most of the rest of Europe had bagged the beach-front sun beds. But heck, I was here to chill, and soon got into a rhythm of going to the gym, where I was usually alone, followed by a swim, a session with the massage ladies at 250 baht (about £3.60) for an hour, followed by a couple of cocktails during the two-for-one happy hour.
The answer to 'What shall we do today?' was 'not much', apart from amazing-value boat rides to lesser islands for snorkelling which costs from £6 for a full day with lunch included. Our fellow passengers were friendly young backpackers from Sydney, Seoul and Milan, as well as glad-to-be-grey middle-aged adventurers such as us.
Koh Chang means 'elephant island' and even though they aren't indigenous there are three spots on the island where you can take organised rides. We took advice and chose Ban Kwang Chang, a simple clearing in the forest where they (thankfully) don't do circus tricks. We got Jintara, at 22 a mere nipper, who was said to be naughty, but the worst thing she did was stop to eat bamboo a couple of times on her slow plod through rubber plantations, past a fruit salad of coconut, papaya, jackfruit and banana trees.
We fed her bananas to say 'thank you' afterwards, but the best bit was being allowed to wash down some of the elephants in the river with a nylon scrubbing brush, apparently their favourite form of massage.
While we were scrubbing her friends, Jintara was playing water games with her mahout (keeper) with a hose. Who are we to say that captive elephants don't have fun?
As the first week slipped into the second we started to feel more like travellers than holidaymakers and became regulars at the Fisherman's Bar, just down the beach from the hotel, built almost entirely from flotsam. On our last night we settled down at the water's edge in a couple of rickety deckchairs, surrounded by candles in the sand, sipping Thai whisky, listening to Bob Marley. As I petted one of the local dogs, I felt sad. This is just the sort of place that could be flattened in seconds to make way for another international hotel.
On our final morning I walked down the beach to say goodbye to the massage ladies. 'Come back. Come back please, Madam. The big machine has gone. Very quiet, Madam,' they shouted. Yes, but not for long.