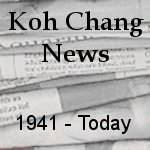 Oct 14, 2006
Trat Province will coordinate with the Royal Thai Navy in promoting historical-based tourism, to commemorate the naval warfare on Chang Island.
Mr. Surapol Saiphan, the Deputy Governor of Trat, attended the meeting with relevant agencies to improve the scenery of Naval Warfare Monument on the island. He said the meeting has an idea to develop Laem Ngob District and Koh Chang Sub-District into historical-based tourism destinations. The province will ask the Royal Thai Navy to being in two discharged battleships to the island. One of them will be located near the monument while the other one will be submerged into the sea for scuba divers to visit.
Mr. Surapol said the marine warfare on Chang Island is considered an important historical event. At the moment, Chonburi Royal Ship and Songkhla Royal Ship are underwater. The province, together with the Royal Thai Marine and the Designated Areas for Sustainable Tourism Administration (DASTA) is organizing the destination to become the first marine burial ground of Thailand and the second in the world, to commemorate the Thai navies who lost their lives there.
At Hat Yuttanavy, in the far south-east of Koh Chang, there is a memorial wall and small shrine. However, the area isn't maintained at all and is only cleaned up prior to the annual commemorations of the battle of Koh Chang in january 1941.