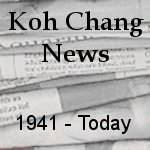 Sep 9, 2006

The planned construction of a sugar mill in Cambodia's Koh Kong Industrial Park adjacent to this eastern province has raised fears of possible environmental damage to the Thai coastline. Supoj Liadprathom, chairman of Trat's chamber of commerce, said Khon Kaen Sugar Industry Plc (KSL), a Thai firm, is the major shareholder in the four-billion-baht sugar mill project.
Mr Supoj fears that waste water from the mill could pose environmental threats to the Thai coastline in Trat, given its close proximity to Koh Kong. The industrial park on the island is located only 5-6km from the nearest Thai territory and some 10km from Trat's coastline.
Unless a proper waste treatment facility is built, the mill's production will certainly pose an environmental threat to Thailand's tourist attractions nearby such as Koh Kud and Koh Chang islands, as well as the local fishery business, he said.
Trat deputy governor Chonchuen Boonyanusan said the mill, covering about 40-50 rai, would prove a boon for the Cambodian province [Koh Kong] as many jobs would be created. There would also be fewer illegal Cambodian migrants entering Thailand to look for jobs.
He dismissed the concerns over potential environmental damage, saying he trusted the Thai investor to have proper anti-pollution facilities in place.
KSL has become a business partner with Cambodian Senator Pad Supapa, who supervises Koh Kong Industrial Park, by co-investing in a sugar plantation and the mill project on Koh Kong. KSL now has a 50% stake in the joint venture while Mr Pad holds 20% shares. The remaining shares belong to a Taiwanese investor.