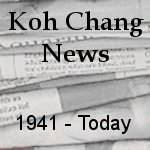 Dec 7, 2006
Chairman of the Koh Chang Subdistrict Administration Organization, Mr. Sanya Kerdmanee , revealed that hotel and resort businesses in the Chang Island have skyrocketed. He further added that he has received many expressions of interests from foreign investors in the island.
He said that the number of hotels and resorts on Chang Island in Trat Province have been increasing every year following the surge in tourist attractions. Mr Sanya said the rate of incoming tourists have increased by 10 percent each year. He further informed that there are about 3-5 investors applying for hotel constructions in each month.
Mr. Sakol Sunet , former chief of the Trat Association of Tour Agents, said that businessmen, who want to invest in Chang Island, should have huge substantial amount of capital as price of property is high.