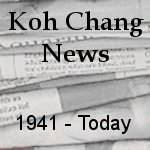 Oct 1, 2006
Hundreds of tourists and residents forced to flee current, bad weather could continue

Mountain torrents triggered a severe flash flood in six villages on the resort island of Koh Chang yesterday.
Hundreds of tourists and residents were forced to flee from the strong current, which destroyed a bridge and flooded homes and resorts with mud and pieces of timber.
The bad weather could continue, as the Meteorology Department has forecast that Typhoon Xangsane is expected to enter Vietnam and Thailand today.
This was the worst flooding I have seen here. We had trees, refrigerators etc floating down the river past our house. The main road in White Sand Beach also had a river flowing along it that was strong enough to move parked cars. A couple of bridges were badly damaged and several resorts were closed for a couple of weeks whilst the mud and floodwater was removed from their gardens and pools.