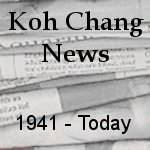 23 May 2006
Englishman Peter Gibney proved to be the toughest competitor at the Koh Chang International Triathlon on Sunday, leading all legs of the event before winning the title and Bt150,000 in prize money.
Despite heavy rain, strong wind and lightning, Gibney had a strong swim leg, emerging from the water in a large group who stayed together for the entire bike ride, settling into a comfortable pace and setting things up for a scorching final leg run.
It was a tough competition as temperatures quickly climbed and the rain continued to belt down, making the course very slippery.
Once on the run leg Gibney quickly opened up a 30-second lead.
His lead grew and no one was able to catch him before he crossed the finish line after
two hours, 13 minutes and 53
seconds.
In second place was his countryman Simon Thomas.
Chadarak Chaikamjorn was the best of the Thai competitors and finished third in the
men's open division to win Bt50,000.
In the women's open class, former Thai national team athlete Sonthiya Saiwaew made
a bad start in the 1,500-metre swim leg, emerging from the water last.
She performed better on the bike leg, and on the 10 kilometre run Sonthiya showed her opponents a clean set of heels before finishing first in 2.38.27, winning a Bt150,000 incentive.