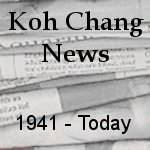 Aug 19, 2006
Susan Gough Henly and family are bewitched by a Thai maritime park.
At Bang Bao Pier, on the island of Koh Chang, two little boys with sharp haircuts and gummy grins, one sporting a black-and-white elephant T-shirt, catch my eye. Behind them, glossy pictures of an aquamarine paradise advertise diving trips to nearby reefs while nearby their mother is drying squid in the sun.
Their families probably run the cheap over-water bungalows and one of the three restaurants on the pier with lobsters and crabs in big tanks. Sisters may be selling espressos, pineapple slices and shell jewellery to tourists and big brothers have converted the family prawn trawlers into day-tripper boats where Danes and Germans go snorkelling with giant turtles among the brain coral.
Nobody really knows why Koh Chang was named after "chang", the elephant. Elephants didn't live there; nor is it shaped like an elephant's head, in spite of what is written in the brochures. There is a convoluted legend of a female elephant mating with a wild elephant and swimming to the mainland, leaving her three babies behind.
Elephants or otherwise, business is booming in the Koh Chang archipelago of 52 islands in the Gulf of Thailand. For years it has been a popular holiday spot for Thais, and it is more than 20 years since it was declared a marine national park.In 2001 it was slated for tourism development by the controversial Thai businessman Prime Minister Thaksin. Many of those initial plans have still not come to fruition but building is booming, partly because Koh Chang benefited from Phuket's tsunami travails.
Today, young European families on limited budgets sit at plastic tables on White Sands beach to eat fresh snapper wrapped in banana leaves. Further south, at Lonely Beach, backpackers indulge in a drumming workshop or two and a little bit of fire dancing. Everyone enjoys the cheap massages on the beach; meanwhile, bright new resorts sprout amid the 200-baht-a-night ($7) bungalows. Defined as a designated area for sustainable tourism, the area is the subject of big plans, with insiders investing in premium developments. Yet everyone says this second largest island after Phuket will never be as overdeveloped because only 20 per cent of the island's land mass is flat enough for building. The other 80 per cent is mostly national park, with mountainous terrain covered in rainforest that is home to wild pigs, macaque monkeys, barking deer, pythons and monitor lizards.
We heard about Koh Chang from Thai friends of friends. After trawling the internet to find attractive but not over-the-top bungalows, my husband and I and our two daughters take a one-hour flight from Bangkok to the newish airport at Trat on the mainland. From there it is a short ferry ride to Koh Chang. We stay at the new Aana Resort (Aana means elephant in sanskrit, so the metaphors are at least consistent). It looks more Balinese than Thai, but the thatched-roofed round bungalows are delightful with their clean lines, white-on-white furnishings and terracotta floors.
The rooftop infinity pool overlooks lush gardens to colourful fishermen's cabins on the other side of the Klong Prao River, one of which has been renovated by Ian McNamara, a loquacious Brit, and his Thai girlfriend, and is now an inexpensive guest-house rental. McNamara also rents out a double-hulled speedboat and kayaks and writes an informative and candid website.
At sunset we are serenaded by cicadas and frogs as we paddle a couple of the hotel's kayaks to the nearby Klong Prao beach. For dinner we have our choice of the local Iyare Seafood restaurant on stilts near the river's mouth and the new Pu Talay (Sea Crab) restaurant practically next door and also on the river. On another balmy evening we take a ride in one of the hotel's longboats up the river to the mangroves, where fireflies adorn the trees like Christmas lights.
We spend a couple of days exploring the island by jeep along the one rutted road that almost circumnavigates the island's hilly perimeter. White Sands beach is the commercial hub of Koh Chang but its souvenir shops are eminently avoidable. The beach itself offers some pleasant seafood barbecue restaurants such as Sand Terrace and Cookies, and Oodie's Place has French food and live Thai blues bands. Swedish-owned Invita has surprisingly good Italian food.
We swim at the Than Mayan waterfall on the east coast, and visit the Baan Kwan Chang elephant camp, three kilometres inland from Klong Song village, past rubber and fruit plantations. Part of the Asian Elephant Foundation, this is the best camp on the island. You can watch the elephants being bathed, feed them bananas and ride through the jungle.
Way down near the southern tip of the island, we lunch on fresh lobster and stir-fried squid at The Bay, one of the restaurants on stilts at the Bang Bao fishing pier. A couple of kilometres south we spend the afternoon at pretty white sand Klong Kloi beach, the oldies enjoying massages to the lapping of the waves, the kids buying ice creams from a vendor on a motorbike with a sidecar, and we feast on local Thai food from a cafe right on the beach. On the way home, we bypass Lonely Beach, a noisy backpacker haven renowned for reggae music, banana pancakes and beer bars, but stop for a swim at Kai Bae beach, where at low tide you can almost walk all the way to Man Nok Island.
The highlight of our visit is a trip to some of the surrounding islands, where we stay for a couple of nights. We join one of the day-tripper boats, Thai Fun, which has a Thai buffet lunch and stops at Koh Wai, Koh Kham and Koh Rang islands to the south of Koh Chang, where we snorkel, swim and beachcomb. I've since heard of a locally owned, cheaper boat option called Attipol Tours at the entrance to Bang Bao pier.
We arrange to be dropped off at Koh Kham beach and picked up two days later. A boat from Coco Cape Resort takes us to nearby Koh Mak Island, which is covered in coconut and rubber plantations.
Owned and designed by two architects from Bangkok, Coco Cape is a whimsical village of tiny waterfront bungalows, pitched-roof tree houses and organic Mediterranean-like stucco villas overlooking an ornamental pond or the sea itself. You can even stay a converted boat. The food is excellent and bicycles, snorkelling gear and kayaks are all for rent.
On the second day we return to tiny Koh Kham Island. Owned by a handsome former Bangkok businessman whose attire these days is bare feet and Jimi Hendrix T-shirts, Koh Kham is nirvana for visitors from colder climes. A dozen or so simple bungalows nestle under the coconut palms behind a fine white sand beach that is surrounded by pale turquoise waters.
A thatched, open-air restaurant serves delectable Thai dishes and has a selection of books, magazines and games. There's snorkelling, fishing gear for rent and kayaks to explore the island's waters.
From some perfectly placed swings you can gaze across towards Koh Chang, which a few days ago was an island getaway but from here seems like a busy metropolis.
Fast facts
Getting there: Thai Airways fly daily to Bangkok. Bangkok Airways fly twice daily from Bangkok to Trat, where you can get a minibus transfer on the ferry to Koh Chang. You can arrange a minivan from Bangkok airport to Koh Chang.
Getting around: Rent a motorbike or jeeps or get around using communal song taew taxis (essentially covered pick-up trucks with benches).
Staying and/or eating: Aana Resort and Spa: Bangkok office : Tel. (+66) 2 399 4084-5, (+66) 2 744 5585 Fax. (+66) 2 399 1885. E-mail: [email protected]
Baan Rim Nam, simple guest house with three rooms in a renovated fisherman's cottage Useful advice on Koh Chang on the website, https://www.iamkohchang.com.
Ko Kham resort: http://www.kohkhamisland.com
Island Hopper Ferry Service: (66)1 865 0610 or (66)7 999 0788
When to go: The best time to visit is during the less humid months of November to February when the average temperature ranges from 20-35C.
Before you go: Read the Thailand Lonely Planet's Koh Chang section.
Travelogue from an Aussie newspaper that I supplied some details for. Note that Koh Kham Island is now a luxury housing project and Island hopper has stopped running ferry services as on 2007. Things change pretty quickly.