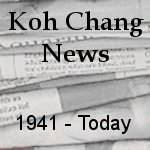 Aug 13, 2006
Victim's husband and sister rescued
A Dutch woman drowned in waters off Koh Chang in Trat province yesterday while swimming with her family. Caroline Haayer, 31, arrived on Koh Chang on Friday with her husband and her sister. They booked into the Hat Sai Khao (White Sand Beach) resort hotel.
The three were taking a swim near the beach when a tidal wave swept them out to sea. Lifeguards and hotel staff could only save the husband and sister, who were rushed to Koh Chang International Clinic. Later they found Ms Haayer, who was pronounced dead at the clinic.
In a separate incident at KC Resort, four local tourists were swept away by a big wave but rescuers saved them.
Pol Col Chuchart Kaewtrairat, Koh Chang police chief, said tourists had been ignoring a warning against swimming in the sea as waves were forecast to reach up to three metres. Sakprasert Charoenprasit, Koh Chang district assistant chief, said police, local officials and hotel staff had been dispatched to the beaches to inform tourists to stay onshore.
Meanwhile, a five-year-old girl drowned and her brother went missing in the sea near the beachfront Ruen Burapa restaurant in tambon Paknam in Rayong's Muang district yesterday.
The girl, identified as Anthittha Boonthammee and her brother, Sarawut, 10, were swept away by a wave when they went to play in the water. Rescuers used a dinghy to fish the girl out of the sea, but could not find her brother. The girl was pronounced dead at Rayong Hospital.
No tidal wave, just strong undertow which is normal at this time of the year. You can feel it pulling when you walk in the sea. No lifeguards on duty, as there aren't any on koh Chang. Worth remembering if you plan to go in the water in rough seas.