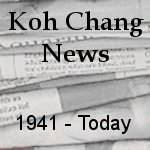 Aug. 29, 2006
The Cabinet on Tuesday approved Bt40 million for the development of Koh Chang off Trat.
Deputy Government Spokesman Chalermchai Mahakijsiri said the Cabinet approved in principle development projects worth Bt236 million but approved only Bt40 milion for one of the projects Tuesday.
As part of the overall development plan, for which the Cabinet has yet to approve full budget, two waste water plants and a garbage disposal system would be built.
Every year there seems to be a new budget for a new garbage disposal system. By rights there should be several on the island by now. There aren't.