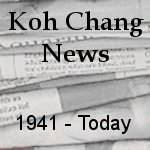 June 3, 2005
Tourism-related businesses and land speculation are booming on this eastern coastal resort island, fuelled by the government's plan to develop it and satellite islands into a tourism hub.
Drastic changes have taken place since 2003 when the first Thaksin Shinawatra government formed a special public organisation to develop Koh Chang into a world-class destination for nature lovers, Koh Mak for diving and other water sports, and Koh Kut for exclusive tourism.
Both local and international tourists are flocking to Koh Chang, which now boasts five luxury hotels – the Amari, Sima Thani, Tropicana, Aiyapura, and Barali – each of which is worth over 500 million baht. The island is also peppered with boutique hotels with 10-20 rooms each.
Old hotels and bungalows have changed hands to new investors with more money, some of whom came from the South after the Dec 26 tsunami disaster.
Vast tracts of land have been acquired by many national-level politicians and associates. A number of beachside plots have changed ownership several times before falling into the hands of major investors, both Thai and foreign.
As a result, local land prices skyrocketed from five million baht to 10-15 million baht per rai for beachfront land. Encroachment on public land became rampant with the aid of fake land documents.
Tourism-related businesses are mushrooming, causing the cost of living to soar. They range from tour guide, diving, massage, spa and transport services to beer bars.
Local operators accounted for 30% of businesses on Koh Chang and neighbouring islands, national-level investors 65% and foreign investors nearly 5%, said Sakol Sunet, adviser to the Tourism Business Association of Trat. One of the local tourism business pioneers, Mr Sakol now owns Ban Pu Resort, Ban Pu Ko Chang, Boutique Resort, and shopping plazas on Koh Chang.
"There were 1,000 rooms in 2001 but now there are nearly 4,000 rooms, with the highest room rate reaching 30,000 baht per night. There are three ports for ferries which can serve 2,500 vehicles a day," he said. According to Mr Sakol, Koh Chang now receives more than 500,000 visitors annually, up from over 200,000 a few years ago. And the number is rising.
Koh Chang can accommodate up to 10,000 visitors at a time during high season. Visitors stay 1-7 days on average and spend about 500 baht each per day.
The island is a stopover for three luxury cruise ships and has a private airport serving two regular flights a day. Koh Chang generates an annual income of up to 1.5 billion baht for Trat province. A number of immigrant workers have flocked to the island, adding to the local population which once stood below 5,000.
Mr Sakol said Koh Chang and its satellite islands have proved to be a treasure trove for investors because of their unspoiled nature, proximity to the capital city and other tourist attractions such as Pattaya in Chon Buri and Cambodia. Also, the islands are located in an area less prone to natural disasters, which permits virtually all-year-round tourism.
There are now under construction on Koh Chang a world-class resort for the elderly, an international school and a marina. Also, a number of small bungalows are undergoing renovation that will turn them into boutique hotels.
Land clearance and construction on coastal plots proceeded apace in the past year, especially during the low season, said Dejsak Pucharoenyos, manager of Remark Cottage, a boutique resort with 12 rooms on Koh Chang.
"Dust is covering Koh Chang. Eight or 10 earth-carrying trucks pass every five minutes, giving off black fumes and raising clouds of dust all over the area, in order to complete construction in time for the next high tourism season," Mr Dejsak said.
Having been declared a special tourism zone, Koh Chang and 52 neighbouring islands are experiencing intense land speculation. Whole islands have been bought by major investors including the Charoen Pokphand Group, Keeree Kanchanapas and several government politicians.
"Land on Koh Kut is still priced at 2-4 million baht per rai only, so both Thais and foreigners are turning to the island. Many locals have sold their land and moved closer to the hills further from the sea," said Kanok Jairak, a member of the tambon administration organisation of Wang Krajae, Trat. He is developing a resort on a 60-rai land plot on Koh Kut.
A cabinet minister has paid nearly 300 million baht for land on Koh Kut and a woman politician
The local leader said two business groups from the Maldives, one of which is the Amazon group, have bought land near Salak Uan bay for over 250 million baht from a in the government is seeking to buy 100 rai on the same island, according to Vichit Kraithong, kamnan of tambon Koh Kut. key government politician.
An entertainment tycoon is acquiring more than 100 million rai near Salad bay and a senior official of the Port Authority of Thailand has leased 600 rai from the Treasury Department for commercial development.
Smaller businessmen are also buying plots from landholders with only local development tax receipts to prove occupation rights. Undocumented land on Koh Kut is priced at hundreds of thousands of baht per rai.
Land on smaller islands nearby has been occupied and changed hands repeatedly as well.
The influx of big-time investors has proved too strong for local operators to cope with. Bowing to the outsiders with clout and money, many agreed to sell their land and businesses when the offers were high enough, he said.
Mr Dejsak, who has gained experiences in tourism business from the South, said Koh Chang had very high tourism potential because of its natural abundance. He urged the authorities to promote environment-friendly resorts on the island and screen out Pattaya-styled entertainment venues.
As investments are storming into Koh Chang without being regulated, many parties call on the authorities to implement zones for development. They want to see controlled entertainment zones and protected zones for nature lovers.
Mr Sakol, a former president of the Tourism Business Association of Trat, said the absence of clear regulations has allowed over-exploitation of Koh Chang's natural beauty. The island needs not only development but also rehabilitation, he said.
No sign of the world-class resort for the elderly or an international school. And cruise ships pass by on average once a year. But the most interesting mention is for the Amazon group from The Maldives buying land on Koh Kood. Apparently a couple of other Maldives based resorts also have land there.