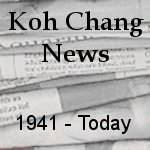 June 5, 2005
Govt spends big on tourism, but schools missing out
A teacher is competing with a noisy construction machine outside the makeshift classroom, trying to get her Prathom 5 students' attention.
Despite the deafening and dusty environment, this school day seems much better than some recently, when heavy rains forced teachers to dismiss the class, and seek shelter for students.
"The government is spending a multi-billion-baht budget to develop tourism and support wealthy investors on Koh Chang, while the schoolchildren here are left struggling on their own. They don't even have enough classrooms to study," said Rung Petchmuang, a teacher at Klong Prao Elementary School in tambon Koh Chang.
The 44-year-old school has only a two-storey wooden building with three classrooms, to cater for almost 300 students, from kindergarten to Prathom 6 levels. Some classes, especially those for older students, have to be held on a temple ground or in a health office building next to the school.
"The environment is really bad for the students, but we have no choice," Mr Rung said, adding the class often starts late because students have to clean up their makeshift classrooms, which are often damp with rain water.
The number of students has increased from 80 to nearly 300 in two years, as the school has to accommodate children of migrant workers who work in infrastructure and hotel construction projects nearby, including children from Laos, Cambodia, and Burma. Some are from the northeastern provinces. These students follow their parents, who work on construction sites. Several are children of westerners, who work in tourism businesses on the island.
According to the Koh Chang TAO, there are 1,672 registered immigrant workers on the island, including 1,017 Cambodians, 208 Burmese, and six Laotians.
"With budget constraints, limited space and only eight teachers, it is impossible for us to provide a proper education for these youngsters, most of whom come from poor families," Mr Rung said, adding the school-lunch budget allocated to the school covered less than 100 students.
The problems are more serious at Klong Prao Elementary School than at other schools on Koh Chang because the five-rai school is surrounded by crowded communities and hotels and resorts.
The teacher said his students were not only threatened by physical problems, but also a social crisis.
"Consumerism, booming night entertainment, underground businesses and a rising divorce rate are ruining the young generation of this island," said Mr Rung.
He called on the government to include education development and child protection in the Koh Chang development plan.
"Koh Chang is a special designated area, which generates vast tourism revenue for the country. It is unfair to let the children of Koh Chang study in such poor conditions," he said.
Mr Rung said most of the teachers at Klong Prao School are seeking transfer orders from the Education Ministry because they cannot endure the heavy workload.
"High living costs are another concern for low-income teachers. Everything is too expensive for us, from food to transport. I no longer want to live on this island," he said. "There is also no sense of community here. Relationships among people are based mainly on business interests."
A Cambodian student Dum Thongyud, of Prathom 2, said he loves Klong Prao School and the teachers here, but still wants to go back to Cambodia.
There is a new school in Klong Prao now. However, there is still no school on the island that offers a good standard of education. Monied locals often send their kids to study on the mainland or even in Bangkok.