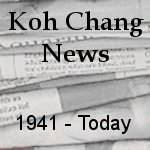 Jan 12, 2005
Hotel and resort operators on Koh Chang and Koh Samui in the Gulf of Thailand have seen their busy season extended as a result of the tsunami's destruction of beach destinations on the Andaman Sea.
While their high season usually slows in the first or second week of January, there has been no let-up yet, they said.
Khanittha Manoon of the four-star Panviman Koh Chang Resort said there have been no room cancellations and occupancy has topped out because tourists are extending their stays and new guests keep arriving.
She said many tourists have said their initial plan was to stay at the resort for a few days and then move across the peninsula to the Andaman coast for another few days.
The tsunami forced them to change their plans.
Khanittha said some guests who arrived before Christmas had extended their bookings until January 25.
But the tragedy in the six Andaman provinces wasn't the only reason guests are lingering at her resort, she said. They also like the beaches of Koh Chang because they're quiet.
The Panviman Koh Chang Resort is no longer accepting online or phone bookings. Only walk-in reservations are possible for the time being.
Vinai Kavichai, president of Koh Chang Hotel and Resort Club, said the island's inns have all reported good occupancy rates and many have had twice the usual number of reservations from tour operators, especially those overseas.
Among international tourists, he said, Koh Chang is considered a prime destination because of its beautiful beaches, clear waters and many ideal spots for snorkelling.
Even pre-tsunami, he added, its resorts closely rivalled the appeal of those on the Andaman Sea.
The tour operators have to survive, Vinai said, and with the loss of so many popular destinations on the Andaman due to the catastrophe, they've been quick to direct customers to the Gulf islands.
Vinai confirmed that many Koh Chang resorts, like the Panviman, have seen room bookings extended to late this month.
Some tourists, he noted, may have cancelled their reservations because they believed the tsunami's effect was farther-reaching or feared it could recur.
Most of those cancelling have been Thai, however, and Thais make up only a small fraction of the island's resort guests, he said.
Vinai said there have been more guests on Chang than usual from Scandinavia. Swedes and Norwegians usually make up a large fraction of the visitors to the Andaman coast, he said.
Some Koh Chang destinations, like the five-star Aiyapura Resort and Spa, have seen little change in the wake of the disaster, however.
Aiyapura general manager Piti Tankasem said there had been a few cancellations, but they were balanced out by new bookings.
Ruengnam Jaikwang of the Samui Tourist Association and owner of the Ban Monthien Hotel, reported a larger than usual number of room reservations on Koh Samui as tourists shift their plans away from the Andaman coast.
There are also more tourists from Scandinavia, he said. Room occupancy tends to stay high through February.
Ruengnam admitted that there have been several cancellations, mainly by Britons and Germans, who make up the bulk of visitors to Koh Samui.
There are currently some 30,000 tourists occupying the island's 13,000 rooms, he said.
Koh Chang was packed for 3 months after the tsunami. Probably the best high season ever and the resorts have never been as busy since. If only there was a natural disaster elsewhere in Thailand every year.