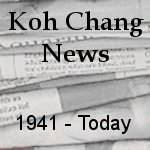 June 6, 2005
Urge long-timers not to sell to investors, so children can inherit
Koh Chang residents have quietly formed a group to protect natural resources on the island, which they say are threatened by the rapid changes that come with tourism development.
They are worried about changes of land ownership after residents sold their property to developers, who turned it into resorts and hotels. Only a few residents have refused to give up their property.
One is Sombat Salakpetch, 62, a native of Koh Chang. He works at his orchard covering more than 100 rai which he inherited from his parents. His ancestors settled on the island over 100 years ago.
"Salakpetch" was taken from a rank bestowed on his ancestors by King Rama V during a visit to the island. A village canal and a waterfall were named after his family.
Sombat, also known as Grandpa Bat, said few people lived on the island during his childhood. Boats were the only mode of transport. The first road was built 30 years ago by soldiers. A few residents owned vehicles which they used to take crops to a pier.
"When a vehicle broke down the owner just dumped it for the only way to get spare parts, which were expensive, was to travel by boat for at least four hours to the mainland," he said.
It was beyond his imagination that ferries to the island would bring more than 10,000 private vehicles a day during the peak tourist season.
In the old days, parents would give orchards or paddy fields to their favourite children, setting aside plots facing the beach for their least-favoured ones, he said. "At the time, people shunned seaside plots. Nobody wanted such land even for free," he said.
Now it is the seaside plots that are expensive. Prices have increased to 15 million baht per rai while orchards or paddy fields fetch no more than 1.5 million baht per rai.
Grandpa Bat said he felt the peaceful island was being threatened by the presence of investors who had tried to "swallow" his community. The abundance of natural resources on the island had gradually depleted as vast areas of forest were destroyed and the number of wild animals fell rapidly in 6-7 years. "The canals and waterfalls are drying up. The water level drops sharply during the dry season and this year the situation is critical. It will get worse if investors continue to expand their resorts," he said.
Grandpa Bat's group meets once a month to discuss problems and exchange views.
"We keep telling residents not to sell their land. If they really have to, they should sell some, and not all they have. We ask them to keep some land for their children to cultivate." The community was not comfortable with the influx of strangers.
"There are more newcomers living near us. That changes our life. We cannot trust anybody," he said.
Robbery and theft was no longer uncommon.
He said thieves recently broke into his house and fled with a cloth which his late grandfather wore on the day he was granted an audience with King Rama V. Now Grandpa Bat's elder sister, Siang Salakpetch, who takes care of the family's assets, dare not leave the house.
"The tourism boom is good as it creates jobs and incomes for residents. But crime is also on the rise," said Mrs Siang, 75.
Grandpa Bat called on the authorities to control tourism expansion in the southern part of the island.
He was also worried about moves to evict people from their land. He said most residents do not have land ownership documents for their plots even though they have long occupied the land. The only documents they have are Por Bor Tor 5 papers, the land tax receipts which indicate they make use of the land.
Moon Jetprik, 69, resident of Ban Klong Prao, said he chose to settle down on the island 40 years ago because of the island's natural abundance.
Back then, community spirit was strong. "People used to share food and water. Now we have to buy drinking water at 10 baht a bottle."
The cost of living was also higher now as tourists put upwards pressure on prices.
Always interesting to read articles on how things were in the good old days. The intelligent families haven't sold and refuse to do so. This results in an almost total lack of available land for anyone wanting to buy a small plot in a touristy area of the island. These families are now extremely wealthy and control many of the medium size resorts on the island in addition to ren ting plots for shops/businesses on the roadsides.