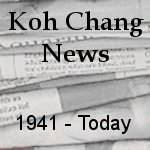 May 19, 2005
Officials yesterday raided a construction site on Koh Chang and seized equipment of a company contracted to lay underwater utility cables to a nearby island.
The officials, led by Koh Chang National Park assistant chief Anant Nopvej, seized five 200-metre-long PVC pipes belonging to NTK Network Co.
The firm was accused of encroachment after it had excavated strips of land for pipe-laying on the island.
The company reportedly received a permit to lay underwater cables between Klong Kood Resort and Home Stay in Jek Bae village in Koh Chang Tai sub-district and Koh Sai Khai Resort owned by Nutchanart Chearavanont on Sai Khao island.
Lt Phanupong Metta, who was authorised by Ms Nutchanart to apply for the permit, said the firm received the permit from the 6th Water Transport Office and renewed it on March 25.
The Chearavanont family own CP Company, of of the largest conglomerates in Thailand. In addition to this island they have extensive land holdings and business interests – hotels, 7-Elevens, ferry company etc on Koh Chang. So they must have upset someone very important for them to get busted. The small island in question still hasn't been developed. There is an old, rundown, closed resort on it.