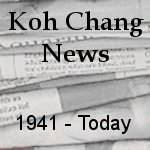 Oct 27, 2005
Via slow boat, nostalgia is rewarded on far-off Koh Kud – not even a footprint on the beach
Friends of mine recall washing up on the shores of Koh Samui 25 years ago, when the island boasted a total of four bamboo bungalows and no electricity. They might faint if they saw the island today – an international airport, 7-Elevens, McDonalds, malls and enough hotels for the Olympic Games.
Over the past five years I had been watching the same changes coming to Koh Chang in the eastern gulf. Recently the government decided to make it its "model" for tourism, with five-star resorts going up on a daily basis.
As the buildings went up, I fled further south, to the 51 small islands that make up the National Marine Park of Koh Chang. Wondering if there were any strips of untouched sand left, I decided to make an unobtrusive journey, travelling by kayak, which seemed a perfect way of sneaking up on the lesser-known islands.
My kayaking partner Joo and I set sail from Bang Bao, a tiny fishing village built along a pier in southwestern Koh Chang. Six years earlier I'd walked to Bang Bao – there was only a rough dirt track leading to the village – but now there's pavement, an ATM and, yes, a 7-Eleven.
Yet most of Bang Bao's visitors only stay for the day, and everyone goes to bed by 9pm, since fishing remains the village's main activity.
A short paddle across the bay brought us to Hat Sai Yao, a perfect crescent of white sand situated on the southeastern peninsula of Koh Chang. A motorcycle track forged through the jungle and more boat services have bolstered access to Hat Sai Yao, but the beach retains its castaway feel.
Fifteen simple, thatched-bamboo bungalows are built just off the water, offering a mattress, mosquito net and kerosene lantern as amenities. Bucket showers are nearby, and hammocks are strung along the shore.
Some might find it a bit rustic, but at Bt180 a night, it's got to be some of the most affordable gorgeous beachfront real estate in the world.
Paddling south the following morning, we came across two dolphins flipping playfully. Joo informed me that it was considered a good omen to see a pair.
Riding the currents and incoming tide, we made our way to Koh Mak, the third-largest island of the archipelago.
Koh Mak, though it has about 20 bungalow operations, still has an extremely sleepy aura. Its beaches are long, and the island is smothered with coconut palms. Other than reading novels in hammocks, or indulging in the plentiful seafood, there is little else to do.
One worthy excursion from Koh Mak, not only limited to kayaks, is to cross over to the tiny isle of Koh Kham via a sand link at low tide.
Koh Kham has a bay with water the colour of turquoise, possibly the most beautiful stretch of sea in Thailand, where Lucky, the local dog, spends his days in the water catching crabs and fish.
We paddled out of Koh Mak, alongside cliffs dotting the emerald coastline, small enough for only kayaks to fit into their entrances, and we were alone, with only waves crunching against the rock walls to break the silence.
Our final destination was Koh Kud, the second-largest island in the marine park and least developed of all the islands. Koh Kud has about 1,000 inhabitants and a few rough tracks, and is covered in tropical rainforest.
It's closer to Cambodia, and because our lodging for the night was on the far south of the island, we had our longest paddle to date, some six hours.
We reached the shoreline, and it was as if we were paddling inside an aquarium, with a multitude of fish swimming in the clear water around us. Each bay had one resort, upscale affairs that cost at least Bt4,000 a night. A few groups of Thais had come for the weekend, but most places looked empty. I shook my head in disbelief. This is what Thailand looked like 15 years ago!
In the late afternoon we pulled into Bang Bao Bay, where Siam Beach felt like the end of the world. Apart from one fellow trying his luck spearfishing, there was nobody to be seen.
I finally tracked down the manager, who was sleeping soundly in the kitchen. He asked how on earth I had arrived, since there were no ferries due, and looked as if he would have a heart attack when I told him we'd kayaked all the way from Koh Chang.
"Farang baa maak!" he exclaimed, convinced we must be mad.
Not wanting to say goodbye to such a magical spot, we did a final paddle down to the end of the island. Around a bluff we stumbled upon Hat Takien, a two-kilometre beach on a bay of its own.
There were no buildings there, only driftwood and two boys fishing. The sand was soft and squeaky, devoid of footprints. I nodded to Joo – there was no need to go any further, because we'd found what we were looking for.