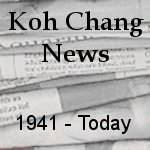 May 18, 2005
A panel set up to scrutinise land papers for 12 plots on Koh Chang and its satellite islands hopes to complete its job by the end of the month.
Governor Boonchuay Kerdsukhon said the panel was assigned to find out if any of the papers were wrongfully issued.
However, Mr Boonchuay said the committee has, for the time being, decided to scrutinise land documents of only five plots because the other seven plots were facing court cases. A subcommittee chaired by deputy governor Khomsan Ekkachai has also been created to consider irregularities with the assistance of land experts and satellite photo specialists.
The Khomsan panel is expected to wrap up its findings on May 27 and submit a full report to the committee on May 31.
The committee was set up by Natural Resources and Environment Minister Yongyuth Tiyapairat who was unhappy with the slow progress of the Koh Chang sustainable tourism development scheme. The islands are all accessible by passenger ferry from Koh Chang.
The situation with dodgy title deeds isnt anywhere near as bad here as on Samui, for example, but there are a lot of people who will happily sell farmland with no titles to foreign buyers using dodgy, worthless, contracts.