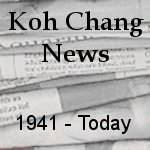 03 August 2005
Residents of three islands have called on the government to amend a ministerial regulation which prohibits the issuing of title deeds on the islands.
They also want a probe in to allegations that local treasury and national park officials had seized land from locals and sold it to investors.
About 300 residents of Trat's Koh Chang, Rayong's Koh Samet and Chon Buri's Koh Larn yesterday rallied at the Rambai Barni Rajabhat University, the venue of the mobile cabinet meeting in Chanthaburi, to lodge a complaint with Prime Minister Thaksin Shinawatra. They are angry about the 43rd ministerial regulation prohibiting the issuing of land documents on 13 islands nationwide which have not been granted the status of provinces.
They want changes to the regulation to allow the issuing of title deeds to landholders on the islands.
Adisorn Pulkasem, a resort owner and representative of Koh Chang residents, said the regulation deprived island residents of their chance to convert their assets into capital.
The prime minister promised to look into the matter and possible amendments to the law, said Mr Adisorn after handing the complaint to Mr Thaksin.
Charae Sangsuwan, kamnan of tambon Pae in Rayong, accused Khao Laem Ya-Koh Samet National Park and the Rayong provincial treasury office of abusing their authority by seizing land plots from local residents.
Natthakitti Charoenpol, a resident of Koh Samet, said more than 400 residents had settled down on the island since 1943, but they have not been granted any land documents. He asked why land developers who recently bought plots on the island had obtained title deeds.
Mr Thaksin promised to look into the allegations.