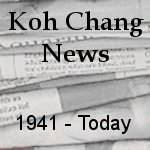 May 7, 2005
The armed forces, police and the Natural Resources and Environment Ministry have launched a fresh effort to crack down on forest encroachers and illegal loggers, by setting up a special task force to pursue poachers across the country.
The army, air force, navy, and the police yesterday signed a memorandum of understanding with the ministry, promising to allocate more manpower and equipment to support the ministry's forest protection operation.
The move came after an investigation into alleged mangrove encroachment in Rayong and Koh Chang by Charoen Phokapand Group, a giant agribusiness firm known to have close ties with the ruling Thai Rak Thai party.
"This is a clear message to those who are breaching forestry and wildlife protection laws that the government is serious," said Natural Resources and Environment minister Yongyuth Tiyapairat.
Mr Yongyuth will take a two-day inspection trip to alleged mangrove encroachment site in Koh Chang, Trat province, tomorrow.
Under the MoU, the air force will increase its capability in forest fire fighting, the navy will work harder on protecting and patrolling marine national parks, while police will help investigate cases, he said.
Mr Yongyuth conceded the government's suppression of forest encroachment in the past was lax due to lack of cooperation between the ministry, military, and police.
"The ministry needs strong support from the military and police to unmask the big operators involved in public land encroachment and illegal logging, said Mr Yongyuth.
The task force, he said, would focus on intelligence operations to track down the wrongdoers, including government officials, who take part in unlawful practices.
Government officials who supply information on forest poaching leading to the arrest of the poachers would get cash rewards.
Mr Yongyuth said he would ask cabinet to approve a budget of at least 10 million baht budget for the operation.
Police inspector-general Pol-Gen Seripisuth Temiyavej said illegal logging was widespread in the northern and western regions. Illegal imports and exports of timber along the Thai-Burmese border were still a prime concern.
Another encroachment story another mention of CP Group.