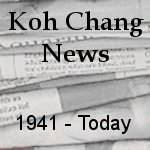 June 6, 2005
Masseurs and masseuses looking to fill their wallets with tourist cash have discovered paradise has an address on Koh Chang.
Pan moved to the island from Surin two years ago to work as a traditional masseuse. She anticipated business would be brisk and could not be more right.
She came to the island at the onset of its bustling commercial development. Foreign and local tourists attracted by Koh Chang's pristine conditions arrived in droves, keeping her busy.
Pan follows strict work ethics. The massage business, looked down upon in days gone by as a "grey" profession, has reinvented its image through certified occupational training. Nonetheless, Pan has had to put up with customers making indecent advances.
She earns money massaging customers at various resorts on Koh Chang. She leaves her telephone number with the resorts which call her to provide the service on their premises at the customer's request.
She gets 200 baht per hour after the resorts take their cut. She charges Thai tourists a cheaper rate.
Pan has worked with more than 40 other masseuses. Some massaged and then offered intimate services afterwards, making more than 100,000 baht a month. Others met foreign tourists, fell in love and went overseas to start a family. It was clear they entered the profession to find wealthy foreigners to marry.
Pan said some customers were interested in sex or asked the masseuses to apply bizarre contortion methods. She recalled the wives of foreign tourists offering to pay her friends a lump sum to be their husband's "travelling companions".
Pan insisted that sex was out of the question. She had met many tourists trying a pick-up line. "I am now used to meeting them. I have to live with it," she said.
Pan said her monthly income from massage topped 30,000 baht during the peak tourist season. She loved her job and earned her keep without hurting her pride while supporting her parents in Surin.
Another masseuse, Orn, is also no stranger to Koh Chang. She has been massaging since giving up dress-making in Nakhon Sawan three years ago. Divorced, she spent 10 years doing menial jobs before stumbling on her pot of gold on the island.
She trained at the occupational skills office in Trat before obtaining a massage certificate. She said most hotels on Koh Chang refused to employ untrained masseuses and masseurs, afraid they may injure customers.
"The days of masseuses carrying a bottle of oil, a mat and a basket, soliciting services from tourists on the beach are over. We need to maintain standards," she said.
Nattha Thongpan, a massage instructor from the Skill Development Department, said more people had applied for training than there was space for them. Most masseuses and masseurs on the island are natives of the North and Northeast. News about the training spread through word of mouth. Classes are kept small to maintain quality. Students must complete 280 hours of training before graduating.
The department limits each class to 30 students although a few extras are accepted. Demand for training is growing.
Ms Nattha said the certificate would be issued along with a massage standard recognition paper. She said the ground rule was that masseuses and masseurs must ask customers about any health problems before performing their service.
Individuals seeking to open a massage business had called in to ask to buy the certificate and the standard paper. The department had refused as the papers may only be issued on completion of practical training. Latest estimates put the number of masseuses and masseurs on Koh Chang at more than 100 and they are in short supply. Those with experience are sought-after by hotels and resorts.
Siriluck Pinkesorn, director of Bangkok Bodiwork Training Centre, a company contracted to set up massage training, said Koh Chang was suitable for a health rejuvenation holiday. She owns a chain of Bodiwork Spa outlets, one of more than 10 spa outlets on the island, which are popular with tourists, especially foreigners. Massage and spa treatment were a lucrative business, combining art with science, she said.
The massage women have to take a course to get licensed, usually at the massage centre near the entrance to Klong Prao waterfall. Don't think anyone has ever failed the course. It is a good business and also a good way to find a husband, if not gfor yourself then for your sister / daughter / niece etc