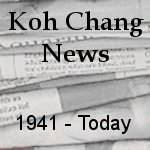 May 10, 2005
The government's plan to develop Koh Chang into a world-class tourism destination has been hindered by land rights conflicts between local residents and the Designated Area for Sustainable Tourism Administration (Dasta) and forestry authorities.
To realise the plan, which was launched in 2003, the government set up Dasta, a public organisation led by Plodprasop Suraswadi, an assistant to the PM's Office, to draft a tourism development blueprint and integrate work between relevant agencies to reclaim forest land and public beaches from encroachers.
Bamroong Ruamsap, president of Koh Chang Iyara Development Co and a member of Koh Chang's civil group, said land disputes between government agencies and tourism operators had grown since the government launched the Koh Chang tourism development project.
He alleged forestry officers, who work for Dasta, had destroyed a villager's orchard and filed charges against several land occupiers, regardless of the fact the plots had been legally obtained or the owners had lived there before the land was designated as part of Moo Koh Chang national park.
"Most locals refuse to cooperate with Dasta and forestry officers because they always unfairly seize our land," said Mr Bamroong, adding there was concern over lack of transparency.
"We have evidence that the officers want to seize public land for their own interests," he said, accusing forestry officers of destroying a villager's orange grove to develop lodging houses in the park area.
Meanwhile, Chokamnuay Surayothee, a business operator on Koh Chang , submitted a complaint to the Natural Resources and Environment Ministry, accusing Dasta's senior officer of illegally obtaining title deeds to a land plot on one of Koh Chang's satellite islands.
Meanwhile, Natural Resources and Environment Minister Yongyuth Tiyapairat threatened to take back land plots that were illegally occupied.
He also set up a panel to look into alleged irregularities in the issuance of fake land documents. Any officials found to have been involved in the unlawfully issuance of ownership papers would face legal and disciplinary action, he said.
Mr Yongyuth, who inspected the eastern resort island in Trat province over the weekend, expressed concern over slow progress of the government's Koh Chang sustainable tourism development initiative, saying the development blueprint was supposed to have been done since last year. "It seems Dasta has made very little progress over the past three years," he said.
The minister ordered relevant government agencies to cross-check each other to plug legal loopholes and get rid of corrupt officials.
Tanya Hanpol, acting director-general of Dasta, said government agencies' failure to confiscate public land from encroachers and the time-consuming legal process were to blame for the agency's poor performance.
There are at present 135 encroachment cases, both in the park and on public land, covering 1,515 rai, causing over 129 million baht loss to the government.
The park is currently taking legal action against 12 encroachers.
I wonder whatever happened to the other 123 encroachment cases