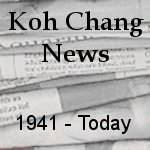 May 11, 2005
Tourism agency is killing our island
Koh Chang residents say the tourism agency charged with developing the island has been doing more harm than good.
They have called on the government to examine and improve the performance of the agency, the Designated Area for Sustainable Tourism Administration (Dasta).
"The organisation is killing our island," said Bamroong Ruamsap, president of Koh Chang Iyara Development Co and adviser to Trat Environmental Conservation Group.
"Koh Chang is likely to develop much faster and better than this without the agency, which has joined hands with forestry officers in oppressing villagers and operating destructive projects," he said.
The Thaksin Shinawatra administration launched a plan to develop Koh Chang in Trat into a world-class tourism destination. Dasta, led by Plodprasop Surasawadi, assistant to the minister of the PM's Office, was established in 2003 to realise the plan by drafting a tourism development blueprint and integrate work between relevant agencies to reclaim forest land and public beaches from encroachers.
Mr Bamroong said over the past two years, Dasta had totally ignored people's participation in formulating the master plan. Citing the government's tourism development plan, the agency also conspired with Moo Koh Chang National Park in constructing projects that could harm the ecosystem, he said.
He cited as examples two road projects, one cutting through a pristine forest area and the other severely damaging a mangrove forest, the proposed eco-lodge projects and a garbage dump site in the protected forest area.
Dasta should be more independent to ensure transparency, Mr Bamroong said, adding that the agency should be separated from the national park office to prevent Dasta from using forestry officers to complete their work. He also called for the ouster of Mr Plodprasop to ease local resistance to the project as the locals had questioned Mr Plodprasop's transparency and his disregard for public opinion.
Mr Bamroong also urged concerned agencies to look into alleged forest encroachment and illegal issuance of title deeds at the historical naval engagement site and encroachment of a mangrove forest by an influential businessman.
Natural Resources and Environment Minister Yongyuth Tiyapairat, who made an inspection trip to the eastern resort island over the weekend, expressed concern over rising conflict between the park officials and local residents.
The minister said Dasta could not make progress because land occupiers refused to return the land plots, some of which were illegally obtained, to the government, which needed large tracts to develop basic facilities to serve tourists.
In a bid to speed up Dasta's work, Mr Yongyuth has set up five committees to deal with public and park land encroachment, town planning, waste management, rehabilitation of marine ecosystem, and drafting sustainable tourism development master plan.
Not for nothing is the organisation known as D(is)ASTA.