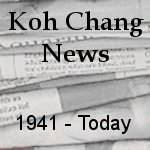 May 1, 2005
Disputed plots found with fake title deeds
The Department of Special Investigation (DSI) will launch a full probe into a land encroachment case on Koh Chang in Trat after it found there was credible evidence to prosecute the encroachers.
Justice Minister Suwat Liptapanlop said more than 100 rai of land on Koh Chang island was encroached on a few years ago by private companies after the government announced it would promote the island as a top tourist destination. He said the government's special organisation to develop the island has requested the DSI look into the case because it could not build a naval combat memorial on a site as planned.
"Many private companies have claimed that they have the title deeds for the area despite it being public land," said Mr Suwat who chaired the DSI meeting.
The encroached areas include beaches, mangrove forests and mountainous areas.
The DSI found that the disputed plots had fake title deeds. A provincial official said that more public land was being encroached on as private individuals and companies expected land prices to rocket after the island was fully developed.
So if a nice man offers you any mangrove or hillside land, just say 'No'. or at least check the title deed with the Land Office