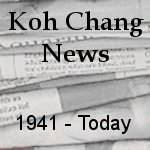 June 5, 2005
These are main figures holding key positions in the development of tourism in Koh Chang.
Pansak Winyarat:
The Prime Minister's chief policy adviser, Mr Pansak was assigned to draft a framework on development of the Koh Chang archipelago and is one of the founders of the Designated Area for Sustainable Tourism Administration (Dasta).
Lt-Gen Preecha Wanarat:
The prime minister's adviser, Lt-Gen Preecha floated the idea of developing the Koh Chang archipelago into a world-class ecotourism destination during the mobile cabinet meeting in Chiang Mai in April, 2001. Lt-Gen Preecha is one of the key decision makers involving development projects on the island, including the construction of a 50-million-baht garbage disposal plant at Ban Chaiyachet, tambon Koh Chang. The project is being carried out by the Armed Forces Development Command and Pairote Sompong Panich Co.
Plodprasop Suraswadi:
Assistant to the PM's Office Minister, Mr Plodprasop is the president of the Designated Area for Sustainable Tourism Development Committee, which oversees Dasta. Mr Plodprasop has initiated a number of theme-park tourism projects, including "Golf Island" and "Safari Island", as well as a hovercraft link to Bangkok. He played a key role in convincing Mr Thaksin to turn the island into a world-class tourist destination and is responsible for significant areas, including road construction, eco-lodges and a parking lot in the Mu Koh Chang National Park area. Mr Plodprasop's role has diminished somewhat recently, however, as he has been focussing more on the Chiang Mai Night Safari project, also being run by Dasta.
Tunya Hanphol:
Acting director of Dasta, Trat native Mr Tunya is a former chief of the Provincial Waterworks Authority. His role in the development of Koh Chang is not as significant as Mr Plodprasop's. He works closely with Dasta's field manager Nut Hirunrat, former deputy chief of the Treasury Department. Most of Dasta's outreach officers hail from Trat, and they are currently in hot water because they own plots of land on Koh Kradat and Koh Kut, major satellite islands off Koh Chang, where several mega projects are expected to be developed.
Sanya Kerdmanee and Pongsathorn Salakpetch:
Chairman of Koh Chang Tambon Administration Organisation (TAO), and Chairman of Koh Chang Tai, the TAO of Southern Koh Chang, respectively. There are two TAOs on the island and the chairmen of these are quite influential in terms of the development of the island as several projects require the approval of the TAOs. Mr Sanya owns a beachfront resort at Klong Prao beach, while Mr Pongsthorn is a brother of Democrat MP for Trat Teera Salakpetch. Tambon Koh Chang Tai is less developed than tambon Koh Chang.
Somkiat Swangsawai, Phisut Ratanawong, Olarn Assavarithikul:
These are influential business figures. Mr Somkiat has close ties with the Charoen Pokphand Group and is a top prawn farming operator in Trat. He also owns a hotel on Koh Chang. Mr Phisut is managing director of Koh Chang International, operator of Koh Chang's ferry service, and owner of the island's biggest shrimp farm. The farm is being probed by the Department of Special Investigation for alleged mangrove encroachment. Mr Olarn is an owner of Koh Chang Laguna Grand Resort, one of the island's biggest resorts, which has been accused of beach encroachment and unlawfully modifying the coastal area, causing damage to the ecological system.
It's always nice to know who controls your fate.