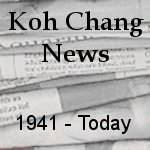 Dec 27, 2005
Three men were appearing in court today after a Sunderland man was killed in Thailand for the sake of just GBP100. James Edward Hall was beaten during a bungled robbery by a gang who had previously worked for him as labourers, according to police.
The Foreign Office confirmed the 57-year-old tourist died after his body was discovered near a bungalow on Ko Chang Island's Sai Khao beach on Christmas Eve.
Northumbria Police said Mr Hall's relations have been informed of the tragedy and have been left "extremely distressed" by the news.
Thai police said Mr Hall, who was on holiday in Thailand, was set upon by men who planned to steal cash, believed to be 150 euros, about GBP102.
Three Thai men two aged 18 and one 20 were arrested on Christmas Eve and are believed to have confessed to beating and robbing Mr. Hall.
Lieutenant Supin Naoprakson told the Press Association the three suspects had all worked for Mr Hall, helping him build a property on the island.
"They did not mean to murder him, they just tried to get money from him, but then they had fighting. They just used boots, and then just hit his head, something like that.   They used to work to build the bar for that Englishman, that is why they knew about where this guy was staying, and how much they had money in the wallet."
Mr Hall was said to have arrived on the island in October and was a frequent visitor. Police have not said which part of Sunderland he comes from.   A friend of his on Ko Chang Island declined to comment on his death.
The island of Ko Chang, Thailand's second largest after Phuket, is a tropical marine national park, located in the country's eastern Trat province, on the border with Cambodia.   Sai Khao (White Sands) Beach is the longest and busiest on the island and is lined with bar and nightclubs.
This story never appeared in any English language papers here in Thailand, although it was reported on the BBC News website and in UK papers at the time.