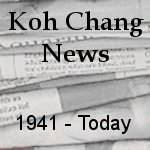 June 1, 2005
More than 120 people, encroaching on 1,100 rai of navy-owned land on Koh Chang, have agreed to return the plots to the navy.
The navy, on the other hand, has been asked by a government committee to return 900 rai of land on the island to villagers as the land had been occupied by them before it was declared navy land.
Gen Surin Pikulthong, chairman of the subcommittee tackling public land encroachment, said inspections on Chang island in Trat had found that 209 people were occupying 304 navy-owned land plots covering 3,764 rai, of which 124 people were illegally occupying 1,158 rai of navy land. However, recent negotiations had ended with the land encroachers promising to return the land to the state, while the navy also giving assurances that it would put about 900 rai of land back into the hands of village families who had occupied the land before it was declared navy land, he added.
Satellite photos have revealed that 42 plots in the Koh Chang National Park and 13 forest land plots outside the park were being encroached, but the panel could not verify their sizes because land measurements were forbidden by the park.
The committee believed the problems were mainly caused by park officials since aerial photos had also showed that the national park had expanded in size by 18,000 rai due to the adjustment of its boundaries.
The panel chairman admitted that national park officials may have overreacted to the encroachment problem by removing all the settlements on Ngam Island, occupied by villagers well before the establishment of the national park.
Not really fair to declare a National Park and then expand the boundaries and take action against people who before were doing nothing wrong, but are now encroaching on park land. And good of the Thai Navy to allow people who had been living there for years to continue to do so now that the navy decided it owned their land.