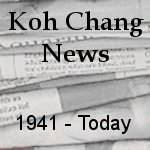 16 March 2005
Hotels and resorts in Chang Island are now buying water from the private sector in order to alleviate tourists' plight after the occurrence of the drought.
From the drought condition in several areas, many districts in Trat Province are faced with problem of water shortages. The Chang Island Subdistrict is another place facing these shortages at present. This is due to the drying up of the island's natural water sources, such as the Plu canal and Mayom watercourse.
The drought has caused hotel and resort operators on Chang Island to purchase water from private sellers to accommodate tourists. Chang Island Hotel and Resort Association President Winai Kawichai said that the tourism industry, particularly the operators of hotel and resort businesses, on the island are currently affected by the drought problem. He said the initial solution is to buy water from the private sector for temporary use, at the prices of 500-600 baht a trip. He stated that he would like the state or related agencies to urgently address the problem.
The association's president also said that if rainfall continued to be absent, then the water in natural sources will certainly perish. He said that this would, in the future, also cause trouble for fruit farmers on the island.