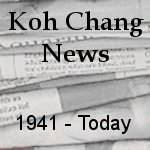 June 4, 2005
PM's vision slow to get off the ground
Conflicts between local people and the authorities and among government agencies have dogged the development of this resort island into the "Phuket of the East" as envisaged by Prime Minister Thaksin Shinawatra.
Since Mr Thaksin announced his vision four years ago, little progress has been made.
In 2003, a public organisation called Designated Area for Sustainable Tourism Administration (Dasta) was established to draft and implement the tourism development master plan. It is headed by Tunya Hanphol, former governor of the Provincial Waterworks Authority.
The government has set aside about 900 million baht for Dasta in the last two years.
Plodprasop Suraswadi, then Forestry chief who was appointed to head a special committee in charge of tourism development of the island, plans to gear Koh Chang and its 52 satellite islands towards offering specific entertainment, such as "Golf Island,""Safari Island" and "Spa Island". But so far these ideas are still on paper.
Most of Dasta's 14 projects, including development of a sewage management system, laying an undersea pipeline to take fresh water from the mainland to satellite islands, and construction of Koh Chang naval battlement memorial, are at the study and design stages. The most advanced project is construction of a garbage disposal site, which is located on a 25-rai plot of land in the national park area.
The only complete project is Dasta's outreach office and luxury wooden cottages catering to the agency's executives and visiting government officers.
Mr Tunya, Dasta's acting director, admitted slow progress, particularly in drafting the tourism development master plan, which was expected to be completed this week , two years behind schedule.
The master plan, he said, integrated three Koh Chang development blueprints drafted by the Tourism Authority of Thailand, the National Economic and Social Development Board, and the Public Works and Town and Country Planning Department.
The three agencies had spent more than 70 million baht to draft the plans, he said. But none was good enough, so Dasta hired a private consultant for 4.5 million baht to do it instead.
" This should be a lesson for future tourism development in other designated areas, such as Koh Samet and Koh Phi Phi," he said. " Agencies must work more closely together in drafting a master plan instead of spending a lot of money doing their own versions."
He blamed slow progress on illegal occupation of several plots of public land where infrastructure construction projects are planned. He referred to the construction of a garbage disposal plant and wastewater treatment facilities which had been delayed because the agency cannot find land for them.
He said illegal land occupation on Koh Chang must be ended in order that Dasta could speed up its work. It would also encourage foreign investors to open tourism-related businesses on the island.
" Foreigners are reluctant to do business here because they worry about illegal land right documents. This trend will hurt the government's plan to develop tourism on the island," said Mr Tunya.
Prasat Rimchala, head of Dasta's outreach office, said Dasta does not have the legal power needed to do its job.
" We simply lack teeth and cannot order anyone to do anything," he lamented.
Two tambon administration organisations on Koh Chang had also refused to cooperate with Dasta because they saw the agency as a threat to their power.
The royal decree setting up Dasta which gives the agency the "power" to run public services on the island and oversee the island's development direction was not helpful.
Mr Prasat also blamed a hostile relationship between Koh Chang residents and tourism operators on one side and forestry officers on the other as one of the major hindrances on Dasta's operation.
" People misunderstand Dasta's role," said Mr Prasat " They think we conspire with Mu Koh Chang National Park's rangers, who tend to use harsh measures to crack down on forest encroachers and seize back land," he said.
Moreover, forestry officers through the Mu Koh Chang National Park also implemented controversial projects that many residents opposed, including construction of two road projects in protected forest, a concrete walkway in the island's most pristine mangroves, lodging houses on Koh Ngam, which is Koh Chang's neighbouring island, and a tourist complex in the dense forest near Klong Plu waterfall.
" We disagree with these projects too because they cause grave ecological damage," said the officer. "The national park's lodgings are poorly designed and will spoil the plan to develop Koh Chang and its archipelago into a high-end destination."
A senior officer of Mu Koh Chang National Park, however, denied the controversial projects were the National Park Department's idea.
" In fact, they are initiatives of Mr Plodprasop, which were approved by the government in 2002," said the forestry officer, who declined to be named. "We also see the projects as a threat to the fragile ecological system of the island."
Before Dasta was set up, the government approved 37 infrastructure development projects worth 482.8 million baht for the Designated Area for the Sustainable Tourism Development Committee. Nineteen were road construction projects, worth 293.1 million baht. There were also three wastewater treatment and garbage disposal projects.
The officer said two road projects, which trespass on the national park area, have hurt an ecosystem of lush tropical forest and could lead to massive forest encroachments.
" It is necessary to have roads connecting the whole island, but we wonder if there are alternative routes that cause less damage. It was unwise to build the roads in such pristine forest," he said.
The concrete walking bridge in the southern part of the island also severely destroyed a mangrove forest, a nursing ground of marine animals, said the officer.
Sombat Salakpetch, 62, a native to Koh Chang, blamed the government and Dasta for ignoring the villagers' opinion in implementing the scheme.
"Over the past four years, the officers have never asked us how they should develop this island. Things happened very fast. We had no time to prepare and protect our communities from the influx of tourism and investments," said Mr Sombat.
He also called on Dasta and the national park department to stop exploiting protected forest.
"Golf Island",'"Safari Island" and "Spa Island" = Comedy gold. In reports from 2002 there was a Bt5 billion baht budget for Koh Chang development. In reality a tenth of that was spent. The lodging houses on Koh Ngam were built, but it turned out a private individual owned the island and reclaimed the resort through the courts.