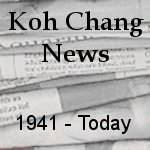 Mar 31, 2005
Natural Resources and Environment Minister Yongyuth Tiyapairat has plans to merge the Forestry Department and the National Park, Wildlife and Plant Conservation Department (DNP), which were separated in 2002.
"Having two separate agencies working on forestry and wildlife conservation is doing more harm than good to our natural resources," said Mr Yongyuth, who is serving on the cabinet for the first time.
"The two departments have failed to work together and have performed poorly over the past few years due to overlapping tasks," he said after a meeting with 2,700 staff from the two departments.
His proposal received a round of applause from the meeting.
The DNP was separated from the Forestry Department as part of public sector reforms of 2002, during the first Thaksin government.
The Forestry Department manages forest reserves and forest plantations for economic purposes, while the DNP focuses on forestry and wildlife conservation in protected areas, including national parks, wildlife sanctuaries and watersheds.
The Forestry Department was under the Ministry of Agriculture and Cooperatives before being moved to the Natural Resources and Environment Ministry in 2003 due to rising inconsistencies in forestry management.
"A merger would improve the efficiency of the two departments," said Mr Yongyuth. "I bet that after they become a single agency forest cover will increase, forest fires will decrease and wildlife will be better protected." The merger would be completed within six months, if approved.
Mr Yongyuth said he was serious about cracking down on national park encroachers, particularly influential people trespassing on marine national parks. The minister chose Koh Chang in the eastern Gulf of Thailand as the pilot area for suppression of park encroachers.
He also vowed to increase Thailand's forest cover from 28% to 32% of the total area. Mr Yongyuth ordered his officials to implement individual reforestation projects, covering about 200 rai each.
"Any official wanting to be promoted must prove that he or she has already reforested 200 rai of land," he said.
Surprisingly, encroachment is taken pretty seriously here. There is one very large area of land, accessible from Klong Plu waterfall entrance that was cleared illegally a few years ago. A notice was displayed saying that the owner had been taken to court.