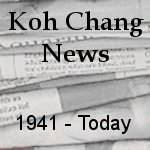 02 January 2005
A tropical sun slides into the sea behind the coconut trees and white sand of Koh Chang beach. As darkness falls, the lights of seaside resorts emerge. As elsewhere in the Gulf of Thailand, entertainment businesses are booming on the newly "discovered" island.
Koh Chang Island is one of the most stunning locations in the country. Along with Koh Kut, Koh Mak and a number of other islands in Trat province, it has been promoted by the government as a special development area for eco-tourism. The development area covers 4,280 square kilometres on 52 islands in the province.
Over the next year, it may also provide a reflection of the national failure of eco-tourism. In recent years, the price of seaside and hillside plots of land have soared. Now environmental problems stemming from the growing tourist industry, particularly in waste management, seem beyond the capacity of the island's unprepared local government. The island is being bombarded with garbage.
The more than 20,000 people who flock to the island over every long weekend leave behind more than 30 tonnes of garbage. The growing mounds of rubbish have recently prompted the island's local administrative body to ask Koh Chang National Park to reopen a garbage dump which was recently closed down because of environmental concerns.
After successfully generating a booming tourist industry, the local and national governments must now show their concern for the island's ecosystem.