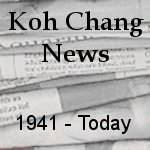 Feb 27, 2005
(The Independent, UK)
Seeking unabashed luxury or just want to get back to nature? Ian McCurrach suggests where you can find splendid isolation.
(I've condensed the info about the other islands & included the highlights so you can compare Koh Chang to the other 'great' island escapes. I've also added a few of my own remarks comparing our little slice of paradise pie with others from the island escapes' dessert trolley.)
1. Rangiroa, Tahiti
This quintessential South Sea island packs in volcanic peaks, a natural pink-sand beach, swaying palms, several lagoons and languid living. This barefoot luxury resort, situated on a private motu, has five beach bungalows built from ironwood. With no phones and no electricity it is one of the ultimate luxury castaway escapes.
No phones? No electricity? And they expect people to go there? Chalk one up for Koh Chang in the 'availability of internet' column.
2. Koh Chang, Thailand
Koh Chang, or Elephant Island, off the coast of Cambodia is one of the last large islands in Thailand to be developed and one of the islands that escaped the tsunami. Change is on the way but it still retains the elements that make Thai islands unique, namely undisturbed tropical rainforest and coconut-lined sandy beaches with only a few resorts. The tourist centre is the aptly named White Sands Beach, where the road is lined with sarong- and CD-sellers jostling alongside the local and international restaurants. Rent a car, motorbike or take a Thai Songthaew (a truck with benches) and head south for miles of deserted beaches, or hit the backpackers' Lonely Beach for parties. Enjoy a herbal sauna and Thai massage. Other activities, should you get out of the hammock, include elephant rides, treks, kayaking, snorkelling and diving.
** You could stop reading here, if you continue on you'll notice that not one of the other 9 islands boasts sarong and CD sellers or a party beach as highlights worthy of a mention. And yes, I can confirm that Koh Chang, along with Beijing, the Cook Islands and the majority of suburban housing estates in the greater Manchester area, escaped the effects of the tsunami. What I can't confirm is that Koh Chang lies off the Cambodian coast – last time I took the ferry I arrived on the Thai mainland and the border was well over 100 km away, unless someone's moved it recently. But you have to admit that the very mention of Cambodia ups the 'adventure travel' and therefore the 'exoticness' quotient by 50%. FYI . . . the 'international restaurants' mention refers to the literally dozens of Thai food eateries plus three Italian restaurants, an always deserted Indian and what's advertised as a 'Lebanes' restaurant which, rather unsurprisingly, I've never tried.
3. Fregate, Seychelles
This private island, only three square kilometres, offers 16 luxuriously appointed villas, which are arranged to assure total privacy. Exclusivity is Fregate's maxim as well as the preservation and protection of the unique natural environment. Fregate is the pioneer of eco-tourism in the Seychelles, and numerous innovative conservation programmes are in place to rehabilitate and nurture indigenous flora and fauna.
** On the eco-friendliness we'll give Fregate a point for making an effort to be hug an indiginous tree or two. On Koh Chang, at least half a dozen signs have been erected advising visitors not to stand on coral plus there's a dive company called 'Eco Divers' that runs snorkelling trips of an old car ferry. Bet they don't have that in Fregate.
4. Pangkor Laut, Malaysia
A luxurious private-island resort off the coast of Malacca, Pangkor Laut is best known for its Spa Village, a series of open pavilions, healing huts and bath houses set among oriental gardens between the sea and the rainforest. The island is reached by private boat and ferry, so there are no day-trippers.
** No day trippers = no jobs as t-shirt vendors or beach massage women for the locals. Not very caring, sharing & 'Body Shop' is it?
5. Ishigaki, Japan
Ishigaki, in the Okinawa archipelago east of Taiwan, has clear waters offering terrific diving and is considered to be the best place in the world to dive with manta ray.
** You can see fish off Koh Chang too . . .providing they aren't more than 2 metres in front of you and the sun's out. Here on Koh Chang we prefer to leave the rays to their own devices and, unlike the Japanese, not hassle them.
6. Heron Island, Australia
Heron Island is a perfect introduction to the natural riches of the Great Barrier Reef. Only 1km long and a few metres wide, the island is surrounded by reef and peppered with pisonia trees. Heron Island Resort is the sole property on the island and is accessible only by helicopter or the resort's private catamaran. Guests can rest easy: no day-trippers are allowed.
** There are several small islands off Klong Prao Beach, Koh Chang where you can't land a helicopter. You want exclusivity, you've got it here. (For a few large denomination bank notes it can be arranged for any day trippers to be diverted away from your private island – permanently.)
7. Taprobane, Sri Lanka
Perched on a rock in the emerald waters of Weligama Bay, this tear-shaped private island is only 200 yards off the southern coast of Sri Lanka but is a world apart. The tiny island is home to a colonial-style house which sleeps 10 and can only be booked by a single party.
** Fine if you've got 9 mates you want to travel with or are a Mormon family but otherwise stick with an AC twin bedded bungalow – yours for 1200 baht/night in Kai Bae, Koh Chang. Does Taprobane have a reggae bar only 5 minutes walk away? . . .I think not.
8. Isla Mujeres, Mexico
The friendly locals are fishermen and divers and there is generally a very laid-back attitude to life. Attractions include Garrafon National Park, a Mayan temple and a turtle farm. Dive enthusiasts flock here to explore the offshore reefs of El Farito, Punta Norte and the incomparable Manchones.
** At last an island that is more touristy than Koh Chang. And for some reason, the description of the location of the island the full review doesnt include the word 'Cancun' – even though it's only a few miles away. Loads of American day trippers, which has to be a downside.
9. Boipeba, Brazil
It's difficult to get to but the lengthy journey by road and boat is rewarding because it passes through the seductive Bahian scenery. Boipeba has rare natural beauty and a vast variety of eco-systems. The island is totally peaceful because there are no cars, most goods are transported by mule, and the only form of mechanised transport is a tractor.
** Being transported by mule hardly seems to be the ideal way to begin your vacation in paradise. Far better to take a minibus from Khao San Rd. On second thoughts, a mule might be more comfortable, if not as quick.
10. Moyo Island, Indonesia
Get back to nature at Amanwana, which means peaceful forest, a wilderness hideaway on this island nature reserve, east of Bali and untouched by the recent tsunami. No buildings were constructed and no trees felled in its making. The camp consists of 20 air-conditioned tents, each finished with hardwood flooring, a king-size bed and a large luxurious bathroom.
** Amanawana?? What kind of name for a resort is that. Should have a sensible name like Koh Chang's Bhumiyama, which means anything the hotel's marketing department would like you to believe it means. Air-conditioned or not a tent is still a tent, you want to spend $200 per night on a glorified scout camp, this island is for you. For less than half the cost, you can find a good hotel room on Koh Chang with views of un-felled trees from the balcony.