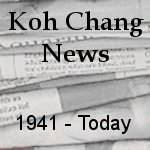 06 May 2004
A plan to allow increased private-sector tourism investment on popular islands on Thailand's east coast has raised objections from opponents who fear that the move could lead to the spoiling of natural attractions.
In defence of the plan, tourism officials say stepped up investment will be allowed on Koh Chang, Koh Kut, Koh Mak and a number of beaches in Trat province under the supervision of the Administration for Sustainable Tourism.
Plodprasop Suraswadi, head of a committee to develop the area, said investments in hotels, restaurants and ports would be included in the plan, which is currently being studied and will be completed this month.
The development area covers 4,280 square kilometres over 52 islands in Trat province.
Mr Plodprasop said that before the islands and beaches can be developed for eco-tourism, the government needs to allow some investment to establish necessary facilities and improvements in the local environment.
"I want to stress that the developments will not modernise the islands like Phuket or Koh Samui," he said.
The study aims to classify and develop the islands according to four different objectives.
Koh Chang developments will feature eco-villages and low-cost hotels, he said, adding that something must be done to prevent further encroachment of the island's seashore and beaches by a number of businessmen and landlords.
"It is necessary for the government to solve this problem first," Mr Plodprasop said.
The Koh Mak island group's focus will be water sports and marine tourism while Koh Kut will be reserved for high-end tourists who will be served by proposed luxury hotel developments.
Trat's beach and downtown, for its part, will be designated as a historical and agri-tourism site.
Mr Plodprasop said a new port will be built to accommodate private vessels, yachts and ferries to replace the existing infrastructure and an additional marine loading facility to be built later will serve border trade between Cambodia and Thailand.
He said work detailed in the development plan was expected to be completed by 2007 and could raise the number of tourist arrivals to 700,000 a year, up from about 300,000 at present.
"The same concepts will be used to develop the islands as was used for Koh Tao and Koh Samet," he said.
Tourism Authority of Thailand governor Juthamas Siriwan said the government in 2001 approved a budget worth 573 million baht for 62 infrastructure projects on Koh Chang. So far, 51 projects have been completed.
She said the TAT would promote Koh Chang and the nearby islands as an eco-tourism zone.