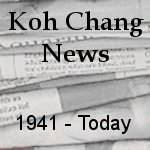 2003-04
As you may have already read, stories relating to development and the changing face of Koh Chang appear fairly regularly in the English language press. However, since we've been on the island there have been a couple of interesting stories in the Thai papers that never made it into Thailand's English language papers . . . perhaps they weren't considered newsworthy enough, perhaps they weren't considered suitable reading fodder for tourists, who knows?
Anyway, a quick summary. Let's start with a light hearted story from May 2004. Koh Chang Resort, a relatively new package tour type resort at the north end of Klong Prao beach put forward a request to become the island's (and the country's) first nudist resort.
The thinking behind this is that the govt. want Koh Chang to become a 'must visit ' location for high spending foreigners and, as we all know, foreign tourists like nothing better than getting their kit off and displaying their dangly bits for all to see, so why not have a resort catering to this wierd, western behaviour? In the plan all the staff would also be naked, this of course roused fears that innocent young Thai staff would be forced to wait on lobster-red farangs wearing nothing more than their birthday suit and patent 'Land of Smiles' nervous smile. Fears were allayed however, by the resort owner who explained that foreign staff would be recruited to work at the hotel in any positions that required the showing of an excessive amount of skin. Therefore, wealthy Thai males could be rest assured of getting an eyeful of the female farang form without having to head to the beaches of Europe every summer.
And now for something completely different.
In late-November 2003, the front page stories in a couple of the Thai tabloid papers were related to the construction of the biggest, poshest resort on the island – Koh Chang Grand Lagoona.
In mid-November local planning officials, accompanied by police and various officials from Bangkok paid a visit to the hotel. There were several key reasons behind this visit. Little things such as no plans ever having been submitted, doubts about the authenticity of land documents, the digging up of an inshore coral reef to make way for a large ship to be moored inland, etc.
The owner of the resort is a Thai billionaire and this resort is his attempt at creating the largest, most luxurious resort that he can. Obviously you don't want a resort like this to be built alongside common or garden resorts, it needs it's own beach and preferably it's own chunk of island. So he bought up agricultural land from locals, then paid them around 3,000 baht/day to work for him. (Bear in mind the average Thai labourer gets no more than 300 baht/day).
The resort itself is very nice in places, the gardens, spotless sandy beach and old rice barges which have been converted into suites in particular. And then there are the monstrosities such as the ship that was bought ashore to be used as a moored floating hotel. As mentioned earlier, newspapers initially reported that planning permission hadn't been obtained . . . but almost as soon as the stories appeared in the papers documents approving the plans and dated a day before the authorities raid were being waved by the owner. (I bet they cost a bob or two.)
Credit to the reporters for not rolling over and giving up on the story, the next item that was unearthed is the best yet. So the hotel has planning permission, even for the 'ship hotel'. A closer look revealed that the 'ship hotel' was classified as a building, despite the fact that it was still afloat. A more than willing source from whatever govt. department is in charge of boats helpfully noted that the ship was bought cheaply from Cambodia, it was cheap because it didn't have a seaworthiness certificate of any kind and therefore couldn't be used to accommodate passengers/guests at all.
Nothing was ever resolved, the rich guy said he'd take every official on the island to court – presumably for not obeying his every whim, P.M. Thaksin said that no-one, no matter how rich or influential they were would be allowed to get away scot-free. So it all died down, no serious face was lost as people have short memories and it'll be highly unlikely that any charges, let alone serious ones are ever made to stick.
I asked our friend in the local planning dept. if we could classify the bungalows that we were planning to build as boats by adding a couple of lifebelts to the outside and therefore bypass any planning regulations. He just shook his head. The poor guy is known for being one of the very few planning officials who won't take bribes and does everything above board. This next story concerned him.
We first met Yuth when we wanted plans drawn up for our bungalows, getting someone in the local planning dept to draw up plans for you is the best way to get them approved quickly and without the need to pay any 'fees' to smooth the approval process. He turned out to be a nice guy with a lot of good ideas and who hated the usual dull, concrete boxes which are passed of as bungalows by many resorts. He helped get our plans drawn up and we kept in touch with him as he often passed by our house.
In April 2004, there was a story in 'Thai Rath' newspaper about a couple of officials who were to be transferred from Koh Chang because there had been complaints about them from resort owners. He was one of the people named. As everyone on the island knew he never accepted any 'under the table money' readers on Koh Chang assumed, correctly that this was the reason he was named as someone to be transferred. His departure would make things easier for the resort operators and the guys who benefit form kickbacks.
We spoke to him to ask if it was true. It turns out that the owner of a resort on White Sand Beach had complained to his boss that Yuth kept stopping construction and the building that was being built bore no resemblance to the one in the plans. This was a big project so the owner obviously wanted things to go ahead smoothly, and by allowing this the big boss of the planning office stood to benefit considerably. This lead to Yuth being out on the transfer list, however once the story appeared in the papers the transfer was put on hold but it finally went though in mid-June, when he was sent into exile at a planning office in a remote part of Chantaburi province, a place where there is no applecart to upset.
The Grand Lagoona development is very impressive, but from aerial photos it is easy to see how they trashed the seabed and dug through a reef so they could get their floating hotel inland. Ironically, Grand Lagoona is now promoted as being eco-friendly. There is more large scale development planned on neighbouring land from more wealthy Thais who can do pretty much what they want.