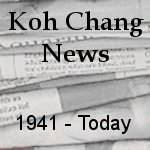 Apr 29, 2004
Tourists will be urged to use boats, no new roads
Koh Chang is to be ruled off-limits to vehicles from the mainland from 2007, according to a Natural Resources and Environment Ministry plan revealed yesterday.
Environment Minister Plodprasop Suraswadi said the plan would allow only local vehicles to traverse the tourist attraction in Trat province.
"Tourists will be barred from taking their vehicles to Koh Chang," he said. He said no more roads would be built on the island under the Koh Chang Development Plan, as the authorities were hoping to encourage people to use boats as their main means of transport.
Prime Minister Thaksin Shinawatra plans to visit Koh Chang on Sunday. Under his leadership, the government has floated a plan to develop Koh Chang into an international tourist destination on a par with Phuket.
Tourism Minister Sonthaya Kunplome said about Bt5 billion would be spent on infrastructure projects on the island, as well as on marketing the island as a tourist destination.
"We will urgently tackle the problems of garbage and limited water resources there," he said, after a meeting about Koh Chang's development chaired by Thaksin.
Sonthaya said the authorities would refrain from building a reservoir on the island, citing environmental concerns. Plodprasop said land prices on Koh Chang had been increasing constantly in recent years, and a single rai could now fetch as much as Bt10million.
The plan to ban cars came just a month after a plan to improve roads on the island. needless to say, 2007 came and went and there were no signs of cars being banned in anyway or of more people using boats to travel from beach to beach. Wonder how much of the Bt5,000,000,000 budget ever got spent? . . . and if so what on?