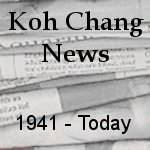 19 February 2004
If you are not driving on your own, you have to rely on the mini bus once you get to Ko Chang. The island is Thailand's second largest, after Phuket in southern Thailand.
There are several beaches with bungalows, get there and decide on which beach you want to stay at. Most beaches are located on the western side of the island. Sai Khao (White Sand) beach is the most active with numerous shops and tourist facilities.
It is ideal for those who want more than just beaches. Khlong Phrao is more upmarket, with luxury resorts. Kai Bae and Lonely beaches have an array of bungalows.
The Bangbao fishing village still retains much of its local identity. Bungalows can also be found in isolated areas.
NEW RESORTS ON KO CHANG
Khlong Phrao Beach
Barali Beach Resort
02-253-4885 to 86, 652-1803, 652-2195, www.baraliresort.com
Published rates: 5,000-6,000 baht
Expected to be completed next month, the 40-villa resort spans 73 rai facing Khlong Phrao beach. The square-shaped swimming pool overlooks the beach. The essence is on neat look and cleanliness. Most villas are surrounded by well-groomed gardens. Three honeymoon suites open up to the sea. Each villa is brightly lit and painted in warm wooden tones; each has its own patio. The swimming pool faces the sea. In-house amenities include air-conditioning, TV and spacious bathroom with overhead shower. A spa will be added later.
Panviman
02-910-8660-4 ext 107-9, www.panvi man.com.
Published rates: 5,000-6,000 baht
Its three-tier roof villas look distinctly Indonesian in style, as reflected by their reddish brown tones. All the 50 villas are decorated in the same design: bed with posts, tiled bathtub, television, air-conditioning and a swimming pool.
Koh Chang Tropicana
02-642-4420, 642-5497, www.kohchangtropicana.com
Published rates: 3,400-4,800 baht from May 1-Oct 31 and 4,300-6,000 baht from November 1-April 30.
It has 77 villas built in a combination of local and contemporary style with Balinese roof. Its thatched roof villas are highlighted with glass walls, spacious bathroom and patio. Most have outdoor shower. Nine deluxe rooms have both shower and bathtub. Essential amenities include television, ceiling fan, air-conditioning and more.
Boutique Resort & Health Spa
039-551-050 to 1, www.kohchang.com/boutique
Published rate: 2,000 baht
The 11-villa resort has distinct thatched roofs that blend well with the lush garden. The resort may seem small compared to others but it offers a homely feel and even though it's located on the main road, the lush vegetation insulates guests from noise and other disturbance. It also has an elegant restaurant and spa facility.
Aiyapura Resort & Spa
02-862-1611, www.aiyapura.com
Published rates: 4,500-26,000 baht
Located on a hillside overlooking Khlong Son beach, its 85 villas spread over 77 rai. Honeymoon suites and tropical beach villas are luxuriously furnished and ensure privacy. Its Oriental Villas overlook the sea. The resort has Aiya Spa housed in a Thai-style complex and decorated with murals. There are seven treatment rooms plus sauna and cold/hot jacuzzi pools, separate for men and women.