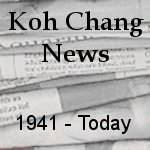 26 October 2004
Tourists visiting Koh Chang island during the long weekend left behind more than 30 tonnes of garbage.
The mound of rubbish has prompted the island's local administrative body to asked Koh Chang national park to reopen a garbage dump recently closed down because of environmental concerns.
More than 20,000 people flocked to the island during the Oct 23-25 holiday. The tonnes of rubbish they generated could not be taken to the garbage to dump in Baan Chaiyachet, located in the national park, because it had been closed down since Friday.
Tambon administration organisation president Sanya Kerdmanee said his agency could not handle the huge amounts of trash left along Na Rong Raem road and at resorts at Hat Sai Khao, Chaiyachet and Khlong Phrao village due to the abrupt closure of the dump site inside the park, and because the other dump site at Khlong Phrao was already full.
Park chief Saran Jaisa-art said the TAO was notified about the closure several months before backhoes were sent to fill up the dump site at Chaiyachet on Friday.
The closure was ordered by senior authorities who feared that if piles of untreated garbage were left there it would harm the environment, he said.
"Mountains of garbage left there were an eyesore, gave off foul smells and caused wastewater to flow to tourist spots when it rained."
There were also lots of flies there, said the park chief.
"Some tourists and senior officials had taken pictures of the site and filed complaints to relevant agencies. Therefore, we had to take action as ordered by higher authorities," he said.
However, the park reopened the dump site on Sunday evening, allowing the TAO to dispose of more than 30 tonnes of garbage there, Mr Saran said.
The park and the municipality would soon meet to find ways to tackle the island's mounting garbage problem. Their talks would be mediated by deputy Trat governor Komsant Ekkachai.