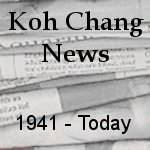 Mar 13, 2004
With Koh Chang's western coast becoming a new Pattaya, escape to the South and makes friends with the local fishermen
You'd be hard-pressed 10 years ago to even find Bang Bao marked on the tourist maps. The small bay at the south of Koh Chang, with its fishermen's houses strung along the shore, has always been isolated, but it's now reachable by road and has become popular among backpackers escaping the crowded beaches of the west coast.
I approach Bang Bao by motorcycle one February afternoon. From a high point, you see the blue harbour with a long pier lined with trawlers, smacks and other craft.
As you stroll onto the pier, your nose catches the tang of saltwater, diesel fuel and fish mingling in the air. Bang Bao is probably the last fishermen's village on Koh Chang, since other areas have already converted to tourism for good.
Most of the population is fishing families. Visitors travelling by car, song-taew, bus or motorcycle are treated to constant views of daily life: women drying squid on racks in the sun, children running and playing along the pier, tough, bare-chested fishermen loading nets onto trawlers. A tourist is a rare sight here, but you might see backpackers meandering through the marketplace.
I tell a fisherman's wife in her 40s that I'm running away from Bangkok. She gives me an uncertain look, as if she wants to ask, "Isn't it too late for a man in his mid-30s to run away from home?"
"My lousy boss in Bangkok makes me crazy with too much work," I joke, "so I ran away and came here to take it easy. Is there any place to rent, a quiet place where I might stay for a few days or even a week?"
She takes her eyes away from the squid she's cleaning and looks toward the southern shore, where a pier stretches into the bay. Alongside it, a cluster of thatch-roofed houses perch on the slope of a leafy hill.
"You can stay there as long as you pay them Bt350 a day," she says. "There aren't many people there. Actually, you have to call them up because you can't reach the place by motorcycle. They'll come here and pick you up in a long-tailed boat."
The woman is right about the houses being empty. There are only two dogs, a few ducks, a husband and wife who run the place, and two Australian backpackers, Adam and Liz. They're more than happy when they see me climb off the boat to make the fifth person.
"There's not much here at the first sight, just fishermen's houses, boats, the sea, the sun and only one beach over there," Adam says.
"But once you've stayed long enough, you'll find Bang Bao is the most lovely, and even lively, place on the island."
How long is long enough? Adam and his girlfriend have already been at the fisherman's house for almost two weeks. If it's possible to be jealous of Adam, I am. His routine is to lean on recliners by the beach and help Liz coat herself with sun cream.
Every 30 minutes or so he walks from his recliner to the fisherman's fridge and comes back with a can of beer, sits back, sips and watches his girlfriend bake herself in her tiny bikini.
Me, too. I lean back on my recliner, keep walking to the fisherman's fridge, sip my beer and watch Adam's girlfriend.
Bang Bao is the place on Koh Chang if you're dying for seafood.
Every morning, the fishermen return to the harbour with trawlers full of shrimp, crab, squid and all kinds of fish.
Each delicacy has a price, of course, but it's affordable at Bang Bao. You can nosh on a dish of barbecued squid for a hundred-baht banknote and still have change for beer to clear your gums of the spicy sauce.
But if gorging on seafood rings alarm bells, Bang Bao is also the best place on Koh Chang to make peace with marine life.
"Bang Bao is now emerging as a good holiday destination for would-be scuba divers, especially backpackers," says Pairoj Srihard, who's helping the foreign instructor at the local dive shop. "They come here to learn basic scuba and get their diving certificate. They will later dive deeper in Koh Tao or even travel down south to Similan."
On my third day, I slip into a boat with a small group of tourists from Germany and Norway for a quick dose of exploring the underwater world.
The best snorkelling destination is around a cluster of small islands – Koh Thong Lang, Koh Rang, Koh Kra – to the south of Chang. It takes only 45 minutes to get there from Bao Bang.
The guide wakes me up and hands over mask and fins while the boat is approaching Koh Kra. He makes you feel that these islands are second to none when it comes to snorkelling.
He promises plenty of Nemo's fishy friends and others I've never heard of, let alone seen, but the site might be saving its best for the weekend – I don't see much at all. There are a few tired-looking parrotfish nibbling at young coral. Then I drift into a large school of yellow-striped swimmers that pop up their heads to gobble up food flung by the guide.
The sea is strikingly beautiful with its clear blue waters. The sky is also clear, though not as blue as the sea. I swim for almost 100 metres to a white beach, knowing that I'll have to swim another 100 metres back to the boat.
When I flop back on deck, I hear a fellow diver say, "Norway shouldn't stay in the European Union." He's in the middle of an EU summit with some German tourists.
"Why not?" asks a German. "You should do it for a cheap beer."
"That's chemical beer," the Norwegian says. "You know, what Norway should do is stay in Southeast Asia. The Norwegians will make chemical-free beer, and we'll get beautiful Thai women to cook for us."
Before we get anywhere closer to World War III, the skipper reaches for the helm and heads back for the bay. On our return to the Bang Bao, I'm deeply tanned, tired and happy after drifting on the sea for a day.
The place has changed a lot in five years. but Bangbao is still good for a seafood meal and souvenir junk shopping. The bungalows, ' Cliff Cottages', described are still there and still for the same price , although they are now accessible by road.