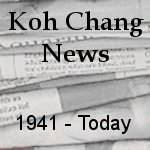 June 5, 2004
While promoting the island for package tours, the government must also tackle water, transport and environmental problems
Koh Chang will be a new packaged tour destination under the concept "Oriental Eden of South East Asia" over the next three year after its master plan is complete, according to Chuchart Oncharoen, the Tourism Authority of Thailand (TAT)'s director of Region 5 (Trat).
He added that Koh Chang will be developed as a Designated Area for Sustainable Tourism Administration. That will promote Koh Chang as a quality tourist destination.
"Koh Chang is a paradise for package tours because of its natural beauty and the many islands around main island," Chuchart says. "It also has lower-priced hotels and resorts that are suited for package tourists. The government is developing Koh Chang's infrastructure and keeping its environment clean for tourist who love sand and sun and such activities as trekking and canoeing."
The TAT is cooperating with local investors to develop Koh Chang to be a healthy tourist destination by supporting the construction of luxury hotels and controlling tourist business expansion so that it does not affect the environment.
Koh Chang currently has 100 hotel and resorts, or about 3,000 rooms. But it has only one luxury hotel, the 77-room Aiyapura Resort & Spa. Upscale hotel and resort owners have expressed interest in expanding their investment in the island to Bt3 billion this year and the next. The Amari chain will open a hotel on July 1.
The Designated Area for Sustainable Tourism Administration's master plan seeks to limit the number of tourists on the island to 5,000 a day. It will also control the number of cars transported to the island by ferry.
"If we don't set rules, we cannot save the environment. It will be like Koh Samet in Rayong, Koh Samui in Surat Thani and Phuket, which have seen the proliferation of bar beers and lost natural beauty," Chuchart says.
Sakol Sunate, the Trat Tourist Association president, says Koh Chang has the potential to be a new tourist destination because it's not far from Bangkok compared with other sea-and-sand tourist destinations like Koh Samui and Phuket.
However, the government has to concern itself about the infrastructure of water and transportation. Koh Chang's natural water supplies will not be enough if the number of tourists dramatically increases.
Currently, Koh Chang is host to 400,000 visitors annually, 25 per cent of them foreign tourists from Germany, Britain, Scandinavia, Australia, Japan, South Korea and Hong Kong.
"We believe that Koh Chang's environment is a good location for package tourists if the government expands its investment to develop infrastructure and protect the environment," Sakol says.
Still waiting for the tourist wave to hit. Of course plans to limit the number of cars/visitors were never realised.