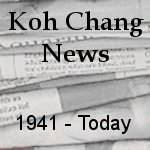 03 November 2004
Businesses and local officials on Ko Chang have called on the newly established Administration for Sustainable Tourism to accelerate plans to allow increased private-sector tourism investment on the popular islands off the east coast of Trat province.
Klong Prao Resort manager Winai Kawichai said the private sector wanted the agency to speed up development, especially of infrastructure and facilities such as roads, garbage management, telephone service, electricity supply and water management, and to take steps on land encroachment. The most serious problem is the water shortage in the dry season.
Ko Chang, Ko Kut, Koh Mak and a number of beaches in Trat have been designated as a special development area for eco-tourism. The development area covers 4,280 square kilometres on 52 islands in the province.
A study on the development framework for the area has already been completed, with the implementation scheduled to take place from 2004 to 2007.
Sakprasert Jaroenprasit, the sub-district chief of Ko Chang, said several problems remained unaddressed because so many agencies had been involved in the development plans, hence the long delays in decision-making.
The new agency is only a co-ordinator, without legal authority to make decisions, he noted.
For instance, he said, road construction on Ko Chang required approvals of at least four public agencies _ the local administrations of Ko Chang and South Ko Chang, the Department for Public Works and Town and Country Planning and the Ko Chang National Park.
Currently, Ko Chang has a registered population of 5,000 but the real population is estimated at 25,000 to 30,000, plus 300,000 tourists a year. As a result, inadequate facilities and poor garbage management become quite serious problems during the high season, said Mr Sakprasert.
"The situation has been worsened by rampant encroachment of public land due to the lack of personnel to monitor it," he said.
Only 55 hotels and resorts on the island were licensed, but there were as many as 74 buildings on public land, which need to be demolished or improved, he said.
Mr Sakprasert expressed hope, however, that the new agency would help solve the problems and speed up developments. The administration, which received a cabinet approval in September, has sought a budget of 300 million baht to run the operation.
A source from the agency said several projects had been planned such as hotel management, transports, garbage treatment, facility construction, and environment preservation. The agency would take one or two years to complete studying the projects, which should bring about sustainable development for Ko Chang and the islands nearby.
Under the framework, Ko Chang is planned for eco-tourism while Ko Mak is touted for marine tourism, diving and other water sports. Meanwhile, Ko Kut would be developed into an upmarket tourism destination.
As well, the seashore of Trat and the town area would be developed into a historical tourism area and for agricultural tourism, he said.
"When the study is done, it will take another two to three years to complete the development plans or by 2007. By then, the island's capability to accommodate tourists will be boosted to up to 700,000 tourists a year," the source added.