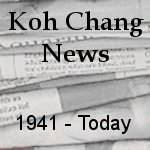 Sept 26, 2004
(The Times UK)
There's still plenty of Thailand the developers haven't ruined. Mark Hodson visits Ko Chang, an island where the calm is well protected.
The snob's view of Thailand is that it's a beautiful country but "spoilt". Many tourists have already ticked it off. They've been there, got the fake Lacoste T-shirt and moved on. Big mistake. Few destinations can match this one for sheer gorgeousness. The islands of the south, with their silky white beaches and jungle-clad hillsides, are among the best on earth. Throw in one of the world's finest cuisines, a tropical climate, good-humoured people and low prices (the Thai baht has tumbled lately), and you have a formula that inches close to perfection.
True, there are ugly pockets of overdevelopment, such as Pattaya and Patong. But these eyesores are easily avoided, particularly now that new roads and airports have opened up parts of the country previously seen only by backpackers. Idyllic beaches that once lay at the end of all-night bus rides are now less than an hour's flying time from Bangkok.
Opening up new areas of Thailand to tourism has, in the past, been a double-edged sword. Unchecked development can spell disaster for the delicate ecology. But there is evidence that the authorities have learnt from previous mistakes: building regulations that used to be routinely ignored are now being enforced; and in some regions, the government is inviting luxury hotel groups to move in, on condition that they operate under tight environmental controls.
SO WHERE is this winter's hottest "untouched" destination? Answer: Ko Chang, a swooningly beautiful palm-fringed island off Thailand's east coast, close to the Cambodian border. Until recently, Ko Chang was known only to backpackers. Nine hours by bus from the capital, the island was badly served by ferries, and the only way to get around it was on a single dirt road that flooded every time it rained. Today, the road is paved, an efficient car ferry runs every half-hour, and an airport has opened at Trat, on the mainland nearby. Flying time from Bangkok is just 40 minutes.
Hotels and restaurants are beginning to appear, but on a limited scale. Although Ko Chang is Thailand's second-largest island (after Phuket), it presents a headache for developers because it is so mountainous. More than 70% of the land is virgin rainforest. It is also protected: along with 50 surrounding smaller islands, it has been designated a national marine park.
Nature is abundant here. Trekking through the dense interior, you can find macaque monkeys and up to 70 species of birds. Get underwater and you might bump into reef sharks, barracudas and giant sea turtles. A short drive inland, passing fields of mango and durian trees, leads to the jungle camp of Ban Kwan Chang, where visitors can ride elephants into the rainforest and wash the animals under waterfalls.
Only one beach is busy. Hat Sai Khao, known as White Sand Beach, is mutating fast, with £5-a-night huts making way for mid-price hotels. The road is lined with clothes shops, internet cafes, food stalls and travel agencies. But even here there is little to do after dark, and the handful of girlie bars that appeared last winter are being shut down by the authorities and shunted to a designated area away from the resorts.
A 10-minute drive south brings you to Hat Klong Prao, an utterly unspoilt picture-book beach with coconut palms, powdery sand and a handful of islands so close that they can be reached by kayak. Three or four tasteful low-key hotels have appeared alongside, and this summer, Hat Klong Prao saw the opening of the island's first sizable resort hotel, which is being managed by Amari, the excellent Thai-owned group.
I was shown around the Amari by Tim Boda, one of the managers, who pointed out its Olympic-size pool, three restaurants and sleek, contemporary-styled rooms. "Because this is all national park, the authorities are very hot on environmental issues," said Boda. "We can clean up the beach but we're not allowed to alter it in any way. We can't even remove these large rocks."
From here, the palm-lined coast road snakes southward past a series of untouched beaches to the fishing village of Bang Bao. Built entirely on stilts over a bay of iridescent turquoise, this is a perfect spot for lunch. Squid boats decked with lamps rock gently on their moorings beside jetties strewn with sun-dried shrimps. Restaurants serve tiger prawns, crab and rock lobster, all served fresh from the giant nets that dangle into the water from their wooden terraces. A crustacean can make it from the sea to your plate in less than five minutes. Spoilt? You will be.
Where to stay
The Amari Emerald Cove (00 66-3955 1195, www.amari.com) has double rooms for £90 in October, including breakfast, rising to £95 in December; but if you book online you pay just £45 ( £76 in December).
On the same beach lies the Panviman (3955 1290, www.panviman.com), built in the style of traditional Thai temple complexes, with spacious doubles and dark-wood furnishings. Doubles with breakfast cost £72 ( £86 in high season, November-May).
Another option is the Tropicana (2642 4420, www.kohchangtropicana.com), where you stay in attractive Balinese-style thatched cottages. Book with an online discounter such as Yourrooms.com, and a double, including breakfast, costs just £42 in high season.
Where to eat
Among the best restaurants at Bang Bao is The Bay (1 773 4680), where a feast for three people – prawns with basil, a whole snapper with sweet-and-sour sauce, tom yam with mixed seafood, pan-fried mackerel and fried rice with shrimp – cost us £11.50, including drinks.
On Hat Sai Khao, budget restaurants set up seafood barbecues after dusk, with tables in the sand. For a superior meal, head to Ban Thai (3955 1108), where main-course dishes cost about £2. If you tire of Thai cuisine, try Invito (3955 1326), an excellent Italian; mains from £5.