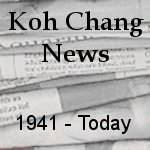 06 September 2004
(From The Daily Mail, UK)
To make an elephant turn left, you kick its right ear; to make it go right you kick its left ear.
Then you shout 'Hua!', which means 'Gee-up' in Thai elephant talk. I learned this while trekking recently through the jungle of an island called Koh Chang (Elephant Island) in the Gulf of Thailand.
I didn't set out that day to be an elephant wallah. The plan had been to sit with my wife, Plum, in a comfortable seat on the elephant's back, and promenade grandly between coconut palms and sky-scratchingly tall rubber trees.
But who could turn down an invitation to command an elephant? So, climbing nervously from our seat, I shuffled across Jarunee's vast grey shoulders, gripped her almost hairless neck tightly with my thighs, balanced and prayed.
It's a long way to fall, I noted, as Jarunee's great ears, dappled pink and grey at the back, flapped some red ants off my legs, and her trunk casually ripped a pomegranate tree from the earth as a mid-afternoon snack.
But I didn't fall off. Like everyone else we met in Thailand, this demure country of tradition, Jarunee was careful and courteous to a fault as we made our way through the forest.
In fact, if she'd brought her front feet up to her trunk in the wai, that traditional little polite bowing motion Thais make, as she deposited us back at the elephant camp, it would hardly have surprised us.
We were staying at one of the few large hotels on Koh Chang, the Aiyapura Resort And Spa. This a very smart place made up of octagonal shaped homes on stilts dotted around a manicured jungle hillside, and overlooking a tropical bay of white sand.
Open for only two years, Aiyapura reflects the investment now being put into the Koh Chang National Maritime Park, with its 50 (mainly uninhabited) islands, south east of Bangkok. Now seen as a serene alternative to the booming Phuket, Koh Chang is a favourite with Thais. Indeed, we were the only Europeans staying in the Aiyapura.
Because it's still largely untouched and uncompromisingly beautiful, this is a good time to visit Koh Chang. Twenty miles long at most, it has steep indigenous mountain forests rising into the clouds at close to 3,000 ft.
You can fly from Bangkok to the airport at Trat, which is set among the rubber plantations on the nearby mainland. Then you take a ferry to what looks like the island where they found the original King Kong.
The interior is a primeval, mysterious looking place, with squalls of darting dragonflies, geckos and prettily coloured birds. It's wonderful for elephant riding but, I would imagine, difficult hiking territory.
The waterfalls and pools inland are famous in Thailand – but waterfalls need a wet season, and when we were there the only thing wet was us, as we melted away in the April heat.
So, forgetting them, we hired a Jeep (at £30 a day) and made our way instead for the necklace of virtually empty beautiful white sand beaches which run down the west side of the island, each one fanned by palms and banana trees.
A place we liked a lot was Bang Bao in the south-west, where the entire thatched roof village has been built on stilts jutting out into a lagoon, like a long wooden pier. If you fancy yourself as an Alex Garland or Leonardo DiCaprio type, however, there's always the alternative of going off to look for the perfect beach of novel and movie fame.
For a few pounds you can rent a jet boat or longtail boat from Hat Sai Khao (White Sandy Beach), which is the longest stretch of sand on the island and a village resort much enjoyed by the young, and find yourself your own tiny, uninhabited island just off the coast.
There are lots of mini-paradises to choose from, including Koh Kut off the very south of Koh Chang, which is said to be the most unspoilt island in South-East Asia.
And if you're feeling really adventurous you can make it down to Koh Kong in the south. But that's inhabited, and in Cambodia, so you'll have to take your passport.
You'll find plenty of coral reefs and rock gardens for diving and snorkelling; the bright blue seas are dazzlingly clean, teeming with fish, and astonishingly warm.
There might, however, be one drawback. As Koh Chang is so small and undeveloped, there isn't a great deal to do in the evenings, and the napkin-folding course at the Aiyapura was strangely resistible.
At the busiest place, Hat Sai Khao, most people have dinner on the beach, take a moonlight stroll along the ripple of surf, then, more likely than not, end up at a beach bar watching English football on satellite television, which is very popular in Thailand.
For me, even better than that was a two-hour session of reflexology back at the Aiyapura, where a beautiful young woman called Sudarat made love to my feet.
I must admit, my feet are not my best feature. As flat and thin as starved plaice, and on this day burned and blistered, they are at best a pair of God's failed prototypes.
But to Sudarat they seemed objects of devotion, as in a darkened room she took them in her hands, rubbed balm on them and proceeded to caress, knead and massage them.
Plum, meanwhile, was having a full traditional Thai massage – an exercise in smoothing out the office-induced strains in her back, and performed at equally great length after a lot of running in and out of hot and cold water.
Thais certainly know how to pamper. If we hadn't realised that from the extraordinary fruit-laden breakfasts on Koh Chang, the cold towels continually being offered and the regular offerings of ginger tea, we couldn't ignore it when we booked into the Mandarin Oriental Hotel in Bangkok before our flight onwards.
Rich travellers have known for nearly 130 years that the Oriental, which is right on the Chao Phraya River, is the place to be in South-East Asia.
But the jasmine bracelets they gave us, the bedroom that seemed to sprout orchids at every turn, and the verandah dinner watching the never-ceasing tableau of river traffic, made us feel as though we'd suddenly pitched up in a sweet-smelling heaven.
And a visit to the Oriental's white-walled and wickered Authors' Lounge, a favourite drinking-hole for Somerset Maugham and Noel Coward, was like regressing in time to a cool, fanned pre-war England as-it-never-really-was, of dazzling cricket flannels and white linen suits.
On this April visit to Thailand it was Songkran, Thai New Year, the beginning of the year of the monkey, and the whole of Bangkok was in festive spirit. Around the temples, between objects that looked like marzipan or gold-leafed Daleks, people were pouring oil on small effigies, and happily making what looked like sandcastles complete with a flower and a flag.
That brings good luck, they said – so we did it, too.
Outside young people splashed water, a symbol of cleansing, at passers-by, soaking kids their own age from the back of pick-up trucks, and deferentially squirted us with water pistols.
I never thought I'd see a tuk-tuk (the three-wheel motorised scooters Thais use as taxis) do a wheelie outside the Grand Palace, but at Songkran anything goes.
Good spirits were everywhere to be found – but, this being Thailand, no New Year drunks. Standing on a river taxi in the hot evening, heading back towards the shimmering skyscrapers of the city centre, it was difficult to believe that we were only an hour or two away from elephant-riding on a jungle island.
But that's Thailand, a country of competing opposites, like my elephant Jarunee – a trunk in the high-tech West, four feet still firmly in Thai tradition.