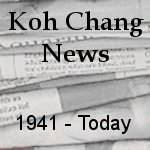 17 July, 2004
The Koh Chang National Marine Park yesterday announced that it would close off 15 islands in the Koh Chang Archipelago off this eastern province of Trat to divers over the next three months in order to allow for the regeneration of coral reefs.
Mr. Saran Jaisa-art, Head of the Koh Chang National Marine Park, said that the closure would come at a time when the south-western monsoon left the seawater around the islands area looking cloudy, making it difficult for divers to see where they were heading.
As a result, coral was at maximum danger from human damage between the months of June and September.
Noting that the coral had suffered extensive damage in the past, he said that the 15 islands in the archipelago would be closed to tourists from 20 July for a period of three months to allow the coral to revive.
Mr. Saran, who described the islands as being part of Thailand's natural heritage, said that the archipelago would reopen to divers on 30 September.
One of the few good ideas. Unfortunately, the dive schools didn't think so and some remained open and ignored the closure. Also worth noting that this plan to stop diving during the rainy season has never been repeated since. I guess the coral is fine now and doesn't need any more time to revive.