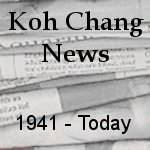 08 June 2004
Section: Business News – At least Bt1.5 billion will be invested in Koh Chang this year as resort owners bet that the government's plan to turn the island into the "Oriental Eden of Southeast Asia" will be a success. The development plan for the island in Trat province would see it transformed into a luxury destination, offering everything from pristine beaches and coral reefs to eco-tourism.
The plan will see Koh Chang transformed into the premiere destination in eastern Thailand, said Chuchart Oncharoen, Tourism Authority of Thailand director for the Central region.
Chuchart said a number of luxury-hotel operators would expand investment in Koh Chang and its surrounding islands, which number more than 50. Since 2002, these operators have spent up to Bt5 billion on constructing 13 hotels on the island, he said. They will invest at least Bt1.5 billion more this year and a similar amount next year, he added. A new 160-room luxury hotel – owned by a Chanthaburi investor but to be run by the Amari chain – will open in July, Chuchart said.
The Mahachak Group, a local manufacturer and distributor of Mitsubishi air conditioners, is also grabbing a piece of the island. It will spend at least Bt700 million on building a 200-room luxury hotel there. Meanwhile, Aiyapura Resort and Spa will spend up to Bt100 million to expand from 77 to 110 luxury rooms this year. Last year 400,000 tourists visited the island, according to the TAT. About 25 per cent were foreign visitors, mainly from Germany, Britain, Scandinavia and East Asia. On average they spent about Bt2,000 per day each.
Domestic tourists, who accounted for about three-quarters of the total, spent about Bt1,800 per day, said the TAT. Koh Chang's rising star has attracted the attention of investors as far away as South Africa, where Sun International Co has said it is interested in forming a joint venture to open a property on the island, said Trat Tourist Association president Sakol Sunate.
The company, which operates Sun City in South Africa, has sent executives to Koh Chang to investigate the feasibility of opening a luxury entertainment complex there, said Keeree Kanchanapas, owner of Koh Kradad, a nearby island. Sun has been negotiating with potential Thai partners over the past two years and the deal hinges on whether the government legalises casinos, Keeree said. Sun City is a Vegas-like complex offering everything from gambling to performances by global pop stars.