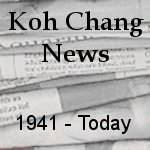 Mar 19, 2004
Koh Chang – a tourist island in Trat province – looks set to undergo a major facelift with an ambitious development plan that will equip it with piers for yachts, boat-competition zones, and a huge undersea aquarium.
"The plan should go before the Cabinet within the next two weeks," Thanya Harnphol, the director of the Special Area (Koh Chang) Development Organisation, said yesterday.
The permanent secretary of the Natural Resources and Environment Ministry, Plodprasop Suraswadi, said the planned aquarium would host a huge variety of fish and plans are for it to be built underwater. "It should attract a huge number of tourists," he said.
He said power and water utilities on the island would rely on supply from the mainland through an undersea pipe network. Road improvements would be implemented, not only to create convenient transport links, but also to beautify the island, he added.
Plodprasop said the development plan would include city planning focused on determining the best way for people and nature to co-exist on the island.
"A committee will screen the styles of resorts and hotels to be built on Koh Chang," he said.
He dismissed reports that he had approved the construction of an incinerator on the island. "We haven't approved any incinerator or landfill facility," he said.
Plodprasop explained that he had approved a garbage-disposal plant that would turn some of the island's daily output of 10 million tonnes of garbage into fertiliser.
The plan to build the undersea aquarium attracted scorn from a prominent academic, who said the construction would not only be useless but also hurt the environment.
"Tourists to Koh Chang want to experience nature. Who among them would want to see fish in an aquarium? I wonder if the planned aquarium will be worth the investment," said Thorn Thamrongnawaswas, a lecturer at Kasetsart University.
He also pointed out that water around the island was not clear enough for an aquarium to take advantage of.
2009, five years on and still no sign of an undersea aquarium, boat competition zones, yacht marina, piped utilities from the mainland, fertiliser from garbage or committee screening designs of hotels to see if they fit in with the natural suyrroundings. But apart from that, the plan was a success.