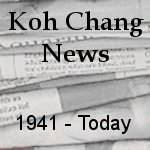 21 June 2004
A marine rescue squad has been searching for an American exchange student presumed drowned after falling into Klong Plu waterfall on Koh Chang during a heavy storm on Saturday.
Exson Gloment, 30, who was on an exchange programme from the University of Hawaii, checked in with three other American friends at a resort on Koh Chang on Friday. They trekked their way to Klong Plu waterfall on Saturday with Mr Gloment leading the group.
One of Mr Gloment's companions, Kratz Tricia, 30, said the group was close to reaching a reservoir when a freak storm swept through the area. A gale-force wind caused Mr Gloment to fall off a slippery rock, ending up in a strong current in the waters below.
Ms Kratz said Mr Gloment could not swim and quickly disappeared from sight. The friends alerted the police and other tourists, but they failed to locate Mr Gloment. The Trat marine rescue unit was later called in to help.
Capt Suwatthi Chitdecha, commander of the Trat marine taskforce, said strong currents had meant that the rescue operation was highly dangerous, and that it was impossible to launch a dive-search on Saturday. The search operation began yesterday, but Mr Gloment is now feared dead. Mr Gloment's relatives and the US embassy have been informed.