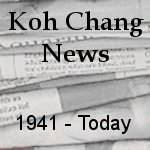 Jul 15, 2003
The government plans to make Koh Chang the 'Phuket of the East', but not all its residents are convinced that this will lead to better things, Mukdawan Sakboon reports
The sand is soft and white, true to its name: Koh Sai Khao -"White Sand Island". It is one of 52 in the Koh Chang archipelago. A group of 20 local tourists that has just arrived puts on snorkelling gear and heads out to see the magnificent corals, the islands' great treasure.
The Charoen Pokphand (CP) group owned the resort, said Sommai Salakpetch. His surname gives away his origins. Salak Petch is one of the villages on Koh Chang.
Before CP's arrival, Sai Khao Island belonged to Banlu Sitthibamrung, a keen gambler who sold the island for Bt120 million after sustaining heavy losses, the caretaker said.
Banlu allegedly bought the island for Bt850,000 from Tun Chanchai, a native of Jek Bae village in Koh Chang Tai sub-district, the caretaker added.
Pointing to another island – from a balcony of one of his five guest houses – Sommai said he was concerned about land sales to corporations, state projects and wealthy families.
The 30,000 Koh Chang residents and 4,000 natives now call some of the islands in the Koh Chang National Park chain by their owners' names instead of by their traditional ones.
Koh Chang, which lies off Trat province, appeared set for big changes after Prime Minister Thaksin Shinawatra made a visit in 2001. Impressed by its beauty, he suggested that the island, which boasts some of Asia's remaining pristine rainforest and marine life, be developed as "the Phuket of the East."
A special administrative zone was proposed to run Koh Chang. About Bt700 million has already been allocated to make it a destination for "wealthy tourists" willing to pay Bt4,000-Bt5,000 a day, said Plodprasop Suraswadi, who chairs the committee drafting the tourism master plan.
New hotels, spas, resorts and restaurants now line the once-secluded Haad Sai Khao – White Sand Beach. Visitors here are mainly locals, as foreign tourists were encouraged to stay at more secluded accommodations or further away on Koh Kood.
Boat Chalet resort on Koh Chang is a 20-room floating hotel that once served as a casino boat.
Under Koh Chang's development plan, each of the 52 islands will be developed as distinct attractions and key ones will house a golf course and a casino.
Surachet Chetamas, chairman of the academic subcommittee on the development of Koh Chang, said the development programme would not repeat the mistakes of Samui, Pattaya and Phuket.
"The most important thing is to preserve the islands' greenery and ecology as well as their local culture," said Surachet in an interview with Krungthep Thurakij.
The local community, he said, would find employment and benefit from tourism. They can also air their opinions to the committee, he said.
An efficient waste-management system will also be built to safeguard the environment, he added.
Access to the area will improve after the completion of a road this year. Many more roads are under construction, including a 2.5-metre-wide bicycle path that takes up 15 rai of forest at Wai Chaek village.
There are three main piers serving mainland Trat and Koh Chang. Ferries departing hourly are filled with all kinds of vehicles.
Traditional healer Chang Kongbamnu, 83, is happy to see development arriving at Koh Chang as he believes improved infrastructure and increased incomes from tourism will benefit the community.
Sommai said there are about 25 operators of local – or 'home-stay' – tourism in Tai sub-district on the island.
In the fishing village of Bang Bao, village folk have turned their fishing boats into tour boats, carrying tourists to fish or snorkel in the waters, said Silchai Wisetsa-nguan, 40.
Another home-stay operator Somsak Salakpetch, said he takes in about 400 to 500 tourists a year. He charges Bt200 per night for each visitor and also collects fees for boat rentals.
Some villagers are not certain if they need development and more roads on the island. "As a fishing community, we need klongs to travel to the sea, but we were given roads instead," said Lampoon Kongbamnu, a native of Salak Petch.
Many klongs that fishermen used to travel to the sea have became shallow. As a result, villagers have to anchor outside the village, said Lampoon.
"To solve the problem, I asked for a budget of Bt5 million to dredge the klongs so to serve the some 40 to 50 boats in our village," he said. Lampoon had just returned from Bangkok where he received an award for community work.
Sommai who was born, raised and lived on the island for most of his life, recalled the only mode of land travel was, until very recently, walking. He had mixed feelings about the coming of roads.
"The road has brought many outsiders who are interested in buying land or encroaching on land," said Sommai, whose home was the only one in the area 40 years ago.
His neighbours today include a tour operator from Pattaya with whom he frequently argues over waterway blockages.
Local villagers also find themselves fighting with forestry officials who accuse them of encroaching on national park areas. Sommai said villagers had been living on the island long before authorities declared the area a national park.
Villagers say they are puzzled by the way authorities implemented their preservation policies.
"We are not allowed to cut trees or touch fallen trees," said Sommai, "Yet, the authorities did nothing when big companies or wealthy families encroached on forest."
Somsak could not agree more.
"It's surprising forestry officials can iediately rush to the scene when they hear the sound of chainsaws used by villagers to cut trees, even if itmm was two kilometres away. But they hear nothing when a thousand rai of forest near their office are encroached on by influential figures," said Somsak, who runs a home-stay business at Salak Petch.
Villagers are tempted to sell their ancestral lands to corporations and tycoons, he said. "Sometime I had to buy land to prevent it from falling into the hands of outsiders," he said.
Lampoon said while local villagers try to preserve nature, some government development projects were likely to affect nature and marine culture.
The Royal Forestry Department plans to spend about Bt50 million to develop Koh Rang, which is famous for its clear waters and beautiful beaches and is home to many birds.
Authorities planned to build a road around the island and construct some 20 guesthouses. The project was later aborted. But villagers were not allowed to use trees that had already been felled, said Lampoon.
Water shortages and waste-management issues also remain unresolved.
Somsak said that, with increased tourist arrivals, he was worried about the huge amount of garbage left on the island. "We are thinking about getting tourists to take their garbage back," he said.
Some locals in Klong Prao village donated land for use as a garbage dumpsite. In two years, trash has piled up and filled a vast portion of the site.
Garbage truck driver Jae Unglo, 33, dumps six tonnes of waste daily at the site, which lies near mountain streams.
All the garbage comes from Haad Sai Khao, he said, adding that the amount had risen dramatically as a result of the tourist high season from November to April.
"The big truck delivers garbage twice a day. Each time it dumps about seven tonnes," said Jae, who has been driving garbage trucks for two years.
Somsak said the boat the Koh Chang Tambon Administrative Organisation bought to collect garbage was useless as the island had no dumpsite.
The same rules still apply to the big developers and locals. Money talks. White Sand Island Resort closed a few years ago, and is now deserted. Koh Rang has never been developed.